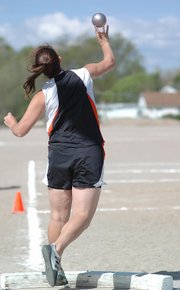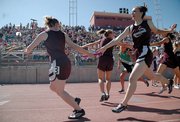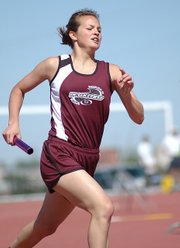 Class 2A state track results
Girls shot put
1. Holli Salazar, Hayden, 41 feet, 7-3/4 inches
2. Brittany Brown, Sangre de Cristo, 40 2-3/4
3. Talli Hansen, Eads, 39 10-1/2
4. Suzanna Cure, Wray, 37 3-3/4
5. Morgan Darden, Mancos, 36 9-0
Boys 100
1. Jake Toney, Simla, 10.86
2. Gage Coen, McClave, 10.99
3. Mike Carl, Miami-Yoder, 11.11
4. Jake Walker, Hayden, 11.13
5. Sevelle Hasan, Byers, 11.28
Girls 800 sprint medley relay
1. Akron 1:50.93
2. Fowler 1:51.80
3. Caliche 1:52.66
4. Kim 1:53.45
5. Byers 1:53.51
8. Soroco 1:55.91
Girls 1,600 relay
1. Akron 4:09.27
2. Dolores 4:09.91
3. Lyons 4:13.88
4. Merino 4:18.79
5. Byers 4:20.48
7. Soroco 4:23.45
Girls 400
1. Shaylee Robinette 57.79
2. Kylie Hauer 1:00.08
3. Marissa Smith 1:01.13
4. Mato Marstrand 1:01.66
5. Brittani Venard 1:02.29
8. Sarajane Rossi, Soroco, 1:06.99
Steamboat Springs — All shot puts fall with the same dull thud, stopping instantly as they blast the dust and sand in all directions.
There was nothing unique about the sound of Holli Salazar's six throws Saturday at the Class 2A state track meet at Dutch Clark Stadium in Pueblo, all launched from her arm with a grunt of hard work and landed with a blast in the sand and rocks.
But the roar from the crowd following Salazar's first two tosses set those throws apart and showed that Salazar, with the dull thud of a shot put, set herself apart from the rest of the state.
The Hayden High School junior won the Class 2A state championship Saturday, annihilating the competition with her first two throws of the morning. The results were all but official after her second throw, her marks so outstanding that no other competitor really had a chance.
Salazar, competing for the third time at the state meet, waited 25 more minutes and through dozens more fruitless efforts by her competitors before she finally greeted her improbable state championship with a small smile and a reminder.
"I said I could throw 40 feet," Salazar said, the small grin widening to a bright smile as she recalled a promise from earlier in the week.
That promise didn't prove prophetic. It proved inadequate. Salazar blew away even her own aspirations,
heaving the shot put 17 inches further than her previous personal best with her first throw, then an astonishing extra 12 3/4 inches with her second, winning the championship with a personal- and school-record toss of 41 feet, 7 3/4 inches.
That distance was 17 inches farther than second-place Brittany Brown, of Sangre de Cristo, threw and nearly two feet more than the effort of reigning 2A champion Talli Hansen, an Eads senior.
And all of that after Salazar sat out of practice most of the week, suffering from tendonitis in her elbow.
"I don't know. It was adrenalin, I guess," Salazar said, seemingly still shocked after the event. "It feels great because I accomplished my goal."
Salazar, who threw a then-record 39-1 at last week's regional track meet, immediately destroyed that mark, throwing 40-6 on her first try. That distance would have held up to win the championship, though her second toss easily bested it.
Wearing a matter-of-fact face throughout the competition, she refused to celebrate even when the final toss of her final competitor was announced to be significantly short. She finally cracked a smile moments later, surrounded by her teammates and her family, then again while walking away from the medal stand, state gold clasped tightly in her hands.
"I was way excited," Salazar said. "It feels good. It feels amazing. I could not be happier.
"Next year, I want the state record."
Salazar wasn't the only Tiger to take a podium spot Saturday. For the second consecutive day, sophomore Jake Walker earned a trip up the steps. Walker, fifth yesterday in the long jump, finished fourth in the 100-meter dash, crossing the finish line in a wind-aided 11.13 seconds.
It wasn't the top-three finish the ambitious sophomore had planned on, but he wasn't complaining, either.
"As far as the season is concerned, it's hard to be disappointed," Walker said. "I wasn't happy with my final finish, but I'm not upset about it. I felt pretty strong, but my start could have been a little better, and I got too nervous."
Soroco grabs three medals
Soroco High School's heralded girls relay teams got off to an unfortunate start Friday, when a slip and dropped baton eliminated the 800-meter relay group. Their luck stayed sour later in the day, when Tatum Lombardi had to miss the 1,600-meter relay because of a hurt foot.
The team rebounded Saturday, and while it fell short of some of the times and places it desired, Soroco medaled in two relays. Junior Sarajane Rossi also picked up a medal in the open 400-meter dash.
Soroco was eighth in Saturday morning's sprint medley. The Rams were edged out at the finish line, finishing just 0.60 seconds behind seventh-place Limon in 1 minute, 55.91 seconds.
Later in the day, the team was seventh in the girls 1,600 relay, finishing in 4:23.45, only a second behind Limon but more than four seconds ahead of West Grand.
Both were improvements on last year's results.
"We were all a little disappointed, but we have some injuries and things," Traci Schlegel said. "We did the best we could."
Rossi was the only Ram to compete in an individual event Saturday, and she collected a medal for eighth place in the 400, finishing in 1:06.99. The junior, who competed in four separate events at the two-day meet in Pueblo, ran the 400 six times between her open event and her spot on the relay teams.
"She ran five of the six at 63 (seconds) or under," Soroco track coach David Bruner said. "That's phenomenal. For any kid to do that is phenomenal. That takes a toll, but she's a workhorse."