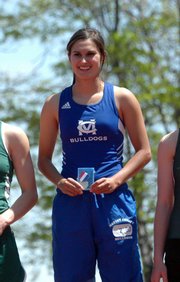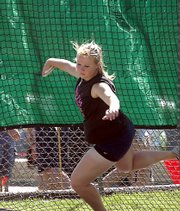 4A track and field state championship results
Jeffco Stadium, Lakewood
Girls 100-meter dash - prelims
11. Erin Urbanoski 12.61
Girls 400-meter run - prelims
13. Angie Charchalis 1:00.53
Girls 800-meter run - finals
4. Alicia Nelson 2:17.88
Girls 1600-meter run - finals
3. Alicia Nelson 5:09.61
10. Maddy Jourgensen 5:22.66
Girls 4x400-meter relay - prelims
11. Maddy Jourgensen
Kylie Bauman
Angie Charchalis
Alicia Nelson 4:08.66
Girls 4x800-meter relay - finals
4. Maddy Jourgensen
Katy Nottingham
Alicia Nelson
Nike Cleverly 9:39.16
Girls 800 sprint medley relay - prelims
13. Millie Blackstun
Kylie Bauman
Erin Urbanoski
Angie Charchalis 1:53.75
Girls long jump - finals
1. Erin Urbanoski 17-6 1/2
Girls shot put - finals
14. Myiah Bengston 33-10
Girls discus - finals
15. Myiah Bengston 98-11
Boys triple jump - finals
7. Brian Ivy 43-8
Boys shot put - finals
2. JT Haddan 53-4 3/4
Boys discus - finals
6. JT Haddan 151
Make it 2-for-2.
Moffat County High School junior Erin Urbanoski is undefeated when it comes to girls long jump on the state's biggest stage.
Urbanoski - the defending 4A girls long jump state champion - entered Saturday's state finals at Jeffco Stadium in Lakewood as the No.1 seed, with a state-best qualifying jump of 17 feet, 9 inches.
"I'm going to need at least 17-5," Urbanoski said before her final round. "I should be able to, but it's a matter of actually doing it."
She did.
Her first leap of 17-6 1/2 withstood all comers, as she claimed her second consecutive state title.
"Everything felt really good," Urbanoski said. "I'm glad that I got that out of the way. It was scary how nervous I was at the beginning. There was a lot of pressure because I was the defending champ."
The pressure will resume next season, as Urbanoski attempts to return to the state finals, this time as two-time defending champ.
"I guess it's 'mission three-peat' now," she said. "And, the pressure will probably be worse."
JT Haddan said he felt some of the pressure Urbanoski was talking about.
The MCHS senior entered the final round of the boys shot put finals ranked third.
Haddan's toss of 53-4 3/4 earned him a second-place finish, one spot better than his previous high of a year ago.
The distance was a personal best and also broke his own school record - the sixth time he accomplished the feat this season.
"I wanted 55 (feet), but it didn't happen," Haddan said. "State is a lot different than what I see all year. In the (Western Slope League) there are two good throwers; here there are 22 great throwers.
"I'm really happy with how I did. You can't be mad about second."
Alicia Nelson wasn't interested in second.
The MCHS junior won all but one of her 800-meter races this season on her way to a No. 1 seed in the event at the state championships.
But, the streak of top-two finishes ended Saturday.
Nelson ran the two laps required in 2 minutes, 17.88 seconds, placing fourth.
"I'm a little bit disappointed," Nelson said. "I guess I just have to see how I bounce back next year. It was a pretty good weekend overall."
Junior Myiah Bengston entered the preliminary round of the girls discus championships ranked 19th out of the 20 qualifiers.
She finished 15th, her throw of 98-11 falling less than five inches short of qualifying her for the final round.
"I was flat again today," Bengston said. "I could tell on my spins that I wasn't getting the weight on the balls of my feet. You get nervous in front of all those people.
"I've got another year though."
The final event for the Bulldogs on championship Saturday was the boys triple jump.
Sophomore Brian Ivy qualified 19th out of 21 competitors with a personal-best jump of 41-5 1/2 at regionals last week in Grand Junction.
Ivy shattered that mark Saturday, jumping 43-8 to advance to the final round of 10 competitors.
He didn't manage to eclipse his new career-best in the finals, but his preliminary mark stood up for seventh-place overall, equaling a 12-position move up the leader-board in his second state appearance.
He finished 18th last year.
"I haven't done anything in three days," Ivy said. "I wanted 43 (feet) and I got it. It was a career-best day."