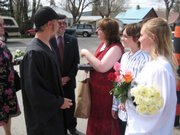 Hayden High School seniors' scholarships
Boettcher Scholarship Janna Hoza, $120,252
Bear's Ear Chris Hull and Dustin Parrott, $1,000 each
Colin Stewart Herbert Memorial Scholarship Jacob McGowen, $1,000
College in Colorado Heather Wertenberger, $1,000
Colorado County Clerks Jordan Williams, $500
Colorado Northwestern Community College Outstanding Dual Student Kirsten Miller, $250
Craig M. Weaver Memorial Scholarship Jordan Williams, $1,000
Doak Walker Memorial Scholarship Heather Wertenberger, Jordan Williams, $1,500 each
Everett Bristol Family International Jacob McGowen, $1,000
First National Bank of the Rockies Jade Stees, $500
Fulton Art Scholarship Jacqueline Gilbert, $500
Gerald R. Murphy Jacqueline Gilbert, $500
Hastings College Ambassadors Scholarship Jordan Williams, $40,000
Hastings College Baseball Scholarship Jordan Williams, $4,000
Hayden Education Association Dustin Parrott, $500
Hayden High School Student Council Brianna Ford and Jordan Williams, $500 each
Hayden Lions Club Garrett Murchison, $500
Hayden Station Vocational Chris Hull and Brad Parrott, $500 each
Hayden Vocational Scholarship Chris Hull, $500
Marie Blee Memorial Scholarship Jacqueline Gilbert, $500
Mesa State College Zathan Bark, Jacqueline Gilbert, Kirsten Miller, $4,800 each; Jade Stees, $8,000; Jordan Williams, $10,000
Morrison Custom Builders Scholarship Samuel Kopsa, $500
Most Valuable Student Elks Scholarship Jordan Williams, $4,000
New Horizon Scholarship Brianna Ford, $500
Patty Jo Memorial Scholarship Kirsten Miller, $500
Robert Barnes Memorial Scholarship Brianna Ford, $1,000
Routt County Republicans Brianna Ford and Garrett Murchison, $500 each
Steamboat Ski and Resort Corp. Dustin Parrott, $4,000, Heather Wertenberger, Jordan Williams, Ann Yager, $1,500 each
Steamboat Springs Board of Realtors Samuel Kopsa, Brad Parrott, Dustin Parrott, Heather Wertenberger, Jordan Williams, $1,000 each
TIC Chris Hull, $1,000
Tiger Vending Brianna Ford, $1,000
University of Denver Janna Hoza, $58,074
University of Northern Colorado Brianna Ford, $500
William Murphy Scholarship Brad Parrott, $1,000
Xi Delta Chi Heather Wertenberger, $500
Hayden — Bob Harris sent off the Hayden High School seniors with advice the football team heard all season: "If you go out there with grit in the gut and fire in the belly, you'll get 'er done."
The assistant football coach spoke to the seniors at graduation Sunday afternoon, advising them to be happy, work hard and become self-sufficient.
"Nobody owes you anything," Harris said. "Get that in your mind. I'm going to repeat it: Nobody owes you anything."
The 34 seniors got a wide range of advice as they sat among orange, black and white balloons in the gym.
Their peers, valedictorian Jordan Williams and salutatorian Janna Hoza, told the Class of 2008 to be passionate and confident. Principal Troy Zabel told the students to "live like you mean it."
Harris' daughter, former teacher Michelle Wilke, shared a few anecdotes about the students and told them to build their own expectations. She quoted the class motto, "Don't tell me the sky's the limit when there are footprints on the moon."
"If you hold true to this motto, the expectations you set for yourself are far higher than the expectations your teachers and parents could set for you," Wilke said. "Don't just reach for the sky : reach for the moon."
The graduation ceremony quickly became emotional. The seniors and the packed house watched a slide show set to music. Seniors' baby pictures floated across the screen, fading into their senior pictures. The show moved to photos from the class's younger years and then senior year.
After a montage of pep rallies and school dances came photos of students assigned various honors. Titles included "biggest rednecks," "blondest," "biggest playas," "worst drivers" and more traditional accolades such as "most likely to succeed" and "friendliest."
The celebration ended with mortarboards and Silly String flying. The students left their seats with a bang, stomping balloons into smithereens as they took their first steps as Hayden High School graduates.
"It kind of seems surreal," graduate Jade Stees said after the ceremony. "It seems like a dream, almost like it didn't happen yet."
High school secretary Vickie Parrott managed to keep from crying this year as her son Dustin graduated. But it was a close one.
"Kaitlyn Blomquist came up to me, and she told me she loved me," Parrott said. "I about lost it then."
Williams, the valedictorian, said he was going to spend his summer playing baseball and figuring out where to go to school. He hasn't decided among Hastings College in Nebraska, the Colorado School of Mines and Mesa State College.
"I'm most proud of the hard work I put in to make it," Williams said. "It was fun."
- To reach Blythe Terrell, call 871-4234
or e-mail bterrell@steamboatpilot.com