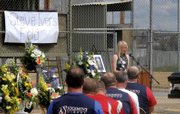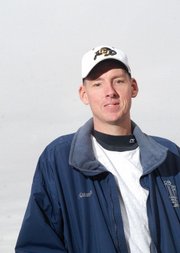 Craig — With a baseball field as the setting and words spoken into a microphone echoing throughout the ballpark, a Friday morning memorial service for a Craig community member was reminiscent of a historic moment from 1939 at Yankee Stadium.
The Yankees bade farewell to the immortal, retiring Lou Gehrig - the so-called "luckiest man on the face of the Earth" - on that summer's day in June 68 years ago, and Moffat County, in its own way, extolled the virtues of its own diamond legend Friday in a similar tribute.
An estimated 600 to 700 friends, family and community members gathered onto Field Four at Loudy-Simpson Park to remember and honor the late Steve Ivers, who died May 11 in Grand Junction. Ivers fought a two-year battle with cancer.
He was 37 years old.
"What an outpouring of love you folks are showing today," J.B. Chapman, who officiated the service, told the crowd that occupied nearly the entire infield.
And though the emotional toll of his passing runs deep, the common thread among those speaking Friday was that it was the people who Ivers touched with his rich spirit that were indeed lucky.
Speakers described him as a loving father, faithful friend, energetic ballplayer, passionate sports fan and a dedicated youth coach who wasn't above using a bit of "motivational profanity."
Chapman recalled first meeting a then-teenaged Ivers in the summer of 1987. The tall, lanky high schooler came to work for Chapman's father, Carl, at his automotive business, where Ivers worked in a job "all about hustle."
Recalling the youth who got "tangled up as he changed oil and tires," Chapman couldn't have realized just how important the evolution of Ivers the teen to Ivers the man would be.
"Little did I know the young man would have such a profound impact in service to his fellow man," Chapman said.
Ivers' daughter, Britteny, a 15-year-old Moffat County High School freshman, said her father was friendly, outgoing and possessed a sense of humor that raised up the people around him.
"My dad was the kind of man people liked to be around," she said.
He encouraged her and her brother, Brentten, or "Bubba," a 13-year-old seventh-grader at Craig Middle School, to be a leader and true to themselves.
"He was always there for me when I needed him," Britteny said. She added, "I looked up to him so much. : To me, he was a hero."
Sean Houck, a longtime Ivers friend, said Ivers exemplified the meaning of life through determination, strength, courage, family and true friendship.
"If you were ever blessed (enough) to meet Steve, he was a friend," he said. "Anyone who ever met Steve and really got to know him was considered a friend for life.
"If he couldn't make you laugh or cheer you up, then something was wrong with you."
The impact he made on youths he coached and the people around him will forever be remembered, Houck said.
"His presence will always, always be felt in this community," he said. "I think he'd be very proud of that."
It was the ball diamond, friends said, where Ivers felt at home.
A baseball player in high school, Ivers was an avid softball player as an adult. He also played adult ice hockey and coached numerous youth baseball, football, hockey and basketball teams.
Two of Friday's speakers said they first met Ivers at the same Loudy-Simpson sports complex where they eventually said goodbye.
"It's fitting we're saying goodbye to Steve here," said Mark Samuelson, who played and coached sports with Ivers and considered him a good friend.
As big an impact as Ivers made on his friends and family, he was equally important to the youths he coached.
"Steve touched a lot of kids, and I gotta tell you, I've never seen so many kids attend a funeral, and that's a testament to Steve," Samuelson said.
When Ivers' health was failing, Samuelson said he finally told his longtime friend just how much he meant to him. Samuelson said he wished he'd told Ivers sooner and asked mourners attending Friday to learn from his mistake.
"You don't need to appreciate your friends at that point," he said. "Tell them now."
Kevin Wilbanks said he was struck by Ivers' unlimited energy, "childlike passion" for the game and zeal for life when he first met him 20 years ago at the ballpark. Those qualities didn't dull with time, he said.
"It was an honor to be his friend and his teammate," Wilbanks said.
At the conclusion of Friday's service, the crowd was asked to turn to left field while "Take Me Out to the Ball Game" played over the speaker system, one last tribute to the late Ivers. He was later interred at Craig Cemetery.
Field Four at Loudy-Simpson will be renamed, "Steve Ivers Field," said Tammy Seela, Moffat County Parks and Recreation director. A plaque dedicated to him will soon grace the field, as well, she said.
"Everyone who comes by should know Steve was the man who poured himself into this community," Seela said. It's "Steve's commitment to the community we want to remember."
Gracing an inside page of a memorial program given to mourners Friday is a picture of Ivers. True to form, he is wearing a ballcap and watching a sporting event from the stands, waving to the camera, an image that will fade in time, but one of a man whose name never will.