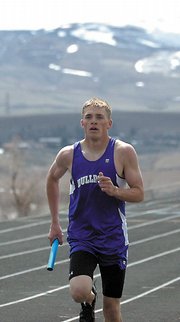 Results
Final results from 4A regionals
At Stocker Stadium, Grand Junction
* qualified for state finals
# pre-qualified for state finals
Final team scores
Girls
2. MCHS 95
Boys
5. MCHS 59
Final individual scores
Girls 100-meter dash
3. Erin Urbanoski* 13.17
6. Millie Blackstun 13.89
Girls 200-meter dash
7. Kylie Bauman 28.05
Girls 400-meter run
3. Angie Charchalis* 1:00.73
Girls 800-meter run
1. Alicia Nelson# 2:19.94
5. Maddy Jourgensen 2:30.39
Girls 1600-meter run
1. Alicia Nelson# 5:12.36
3. Maddy Jourgensen* 5:20.58
Girls 3200-meter run
7. Katy Nottingham 13:24.99
Girls 4x100-meter relay
4. MCHS 51.84
Girls 4x400-meter relay
2. MCHS* 4:07.14
Girls 4x800-meter relay
1. MCHS# 9:50.77
Girls 800 sprint medley relay
3. MCHS* 1:54.25
Girls long jump
9. Lauren Roberts 14-10.50
14. Erin Urbanoski# ND
Girls high jump
8. Lauren Roberts 4-06.00
Girls shot put
1. Myiah Bengston# 33-05.25
Girls discus
3. Myiah Bengston* 102-09.00
Boys 200-meter dash
5. Colton Conrad 23.21
Boys 400-meter dash
17. Josh Classen 56.26
Boys 800-meter run
5. Mike McNicol 2:02.86
6. Tucker Bilodeau 2:02.90
7. Paul Nelson 2:04.68
Boys 110-meter hurdles
14. Cole DuBois 17.81
16. Jeremiah Gordon 18.20
Boys 300-meter hurdles
10. Cole DuBois 44.80
Boys 4x200-meter relay
5. MCHS 1:34.80
Boys 4x400-meter relay
5. MCHS 3:33.23
Boys 4x800-meter relay
4. MCHS 8:21.14
Boys long jump
4. Brian Ivy 19-06.25
Boys triple jump
2. Brian Ivy* 42-00.00
Boys shot put
1. JT Haddan# 53-04.25
Boys discus
1. JT Haddan# 146-60
Craig — Entering the 4A regional track meet Friday and Saturday in Grand Junction, Moffat County High School senior Mike McNicol knew he was in for a tough race.
McNicol competes in the boys 800-meter run, a race he said "five guys are competing for three spots" in.
When the dust had settled Saturday, McNicol was proven correct.
McNicol's time of 2 minutes 2.86 seconds placed him fifth, two spots away from qualifying.
"Mike just got out-kicked in his race," MCHS boys coach Gary Tague said. "I feel bad for him, but it's just one of those things."
Such was the case throughout the weekend for the MCHS boys team, as the Bulldogs finished the season with just two state qualifiers.
Brian Ivy moved on in the triple jump, recording a distance of 42-00.00, earning the sophomore a second-place finish.
Senior JT Haddan was pre-qualified in his two events - shot put and discus - but that didn't stop him from making an impression.
Haddan's toss of 53-04.25 in the shot put broke the MCHS school record of 52-08 he set earlier this year, and his throw of 146-60 in the discus earned him a first-place sweep in both of his events.
The boys team finished fifth with 59 points.
The girls, on the other hand, qualified in six more events, bringing the girls team total to 11.
Erin Urbanoski qualified for state in the 100-meter dash, placing third in 13.17.
She also is pre-qualified in the long jump, an event she is the defending state champ in.
Senior Angie Charchalis qualified in the 400, finishing third in 1:00.73.
"I though Angie ran great in the 400," Trapp said. "She ran with really strong legs all weekend."
Junior Alicia Nelson won the 1600 in 5:12.36 and the 800 in 2:19.94, no surprise considering she pre-qualified in both events earlier in the season.
Freshman Maddy Jourgensen placed third in the 1600 - earning a trip to state - finishing in 5:20.58.
The girls 4x800-meter relay team - pre-qualified already - ran its fastest time of the year, winning regionals in 9:50.77.
The 4x400 relay team and the 800-sprint medley relay team also qualified this weekend.
The 800-sprint medley relay team placed third in 1:54.25, the 4x400 team second in 4:07.14.
Junior Myiah Bengston qualified Friday in the shot put and Saturday earned a spot in her second event, discus.
Bengston's throw of 102-09.00 earned her first-place, rounding out the number of MCHS girls headed to state.
The girls team finished second with 95 points.
"At the beginning of the year, you sit back and look at each event and wonder how many we think we can get to state," Trapp said. "And this is right where we thought we would be."
John Vandelinder can be reached at 875-1793, or jvandelinder@craigdailypress.com