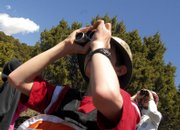 Animal droppings, bones hidden beneath the dirt and partially eaten mammal parts.
Craig Intermediate School sixth-graders pointed them all out for Yampatika and Bureau of Land Management representatives Tuesday.
The Cedar Mountain campground area a couple of miles northwest of Craig plays wilderness for sixth-graders this year as they go through a new program called
"The Bioregion in Your Backyard."
The program has children spend a day-trip on the mountain to learn about local wildlife and its relationship to people.
After a full day of hiking, bird watching and investigating wildlife, students said they loved every minute of being outside.
"I like hearing the birds, seeing the landscapes, wondering how animals live," sixth-grader Amanda Seniff said as she held two small animal bone vertebrates in her hands.
She had immediately recognized what the two stone-like objects were and picked them up out of the dirt to show Yampatika naturalist Jada Lindblom.
"They're white and they have connecting parts to them," Seniff said, explaining how she knew what they were. "They have that blood color.
"And they just feel like bone vertebrates."
Seniff was one of about 35 CIS sixth-graders at Cedar Mountain on Tuesday, with an equal busload brought out Monday, and other busloads planned for Thursday and Friday.
The program is meant to show young students what the wilderness around Craig and Moffat County looks like, said Robyn Morris, BLM Little Snake Field Office archeologist.
If students can see local wildlife, touch local wildlife and know what local wildlife needs to survive, she said, they will have a better understanding of what roles people might take in their bioregion.
"Kids know all about the threatened panda bear from TV," Morris said, "but they may not understand the threats to sage grouse."
In-class teaching shouldn't be discounted, but hands-on learning can be very valuable, said Wendy Holden, U.S. Forest Service visitor information services supervisor.
"When kids go outdoors to learn that hands-on experience gives them a lasting impression of what they learned," Holden said.
Many students said even though they find themselves outside as much as inside, they were able to find interesting things they never picked up on before.
"I learned more about birds," said Travis Walsh, 12, who added he likes to hear bird songs when he's outside. "Their songs sound cool. I heard some new ones."
Yolibeth Molina, 13, who said one of her main interests is psychology as opposed to the outdoors, echoed the sentiments of several other sixth-graders when she said she was glad to have a chance to do something different.
"Basically, it changed the way I look at nature," she said.
It wasn't another day at school, she said. Nick Albaugh, 13, agreed.
"You get to learn about cool things," he said. "If you can't really visualize it, and see it, it's not fun to learn."
At the end of the day, once every student group had studied plants, wildlife and birds and hiked to the top of a nearby peak to write reflective journal entries, they sat down to talk about industrial development.
Each of the four student groups were assigned a role to argue whether an oil and gas company should be allowed to drill in a wildlife habitat. The roles included recreational motorcycle and all-terrain vehicle users, a bird-watching organization, a chamber of commerce and an energy company.
Students assigned to be recreational users and bird watchers said development should be halted because it would ruin the landscape.
The chamber of commerce came in the middle, recognizing the value in added industry, but wary of how it would affect the wildlife and hunting season.
The energy company group said no one should be able to take their rights away.
"It is our land, and no one can tell us what to do with it," said Brenna Ciesco, 12, before adding that the world needs oil and gas - especially recreational motorcyclists - and their company could bring many jobs to the area.
After it all, Shianna Dockins, 12, said the development debate wasn't about winning and losing.
"I don't think it was a winner and loser thing," she said. "Everyone had good points."