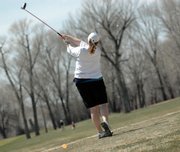 Golf results
Results from girls 4A regional golf championship tournament:
Devil's Thumb Golf Course, Delta
Par-72 5,686-yards
1. Meghan Innes 42-38 80*
5. Heather Nicholson 43-45 88*
DNQ Callie Papoulas 59-56 115
*Qualified for state championships
The Moffat County High School girls golf team is the smallest team - numbers wise - in the Western Slope League.
In the beginning of the season, coach Ann Marie Roberts said she relished the opportunity to work with a smaller team, citing more in-depth coaching as the main reason.
Roberts' season-long tutelage paid off Tuesday at Devil's Thumb Golf Course in Delta, in the 4A girls golf regional championships.
The Bulldogs placed two of its three golfers in the top-10, both of which qualified for the state championships beginning May 19 in Golden.
Senior Meghan Innes placed second, shooting an 80 and sophomore Heather Nicholson placed fifth, carding an 88.
Freshman Callie Papoulas failed to place with her round of 115.
"It's fantastic," Roberts said of the dual qualifiers. "Our third girl did great, too. I mean, it's tough out there in the regionals with all the pressure. The girls did awesome."
Innes teed off in the second group of the day, working her way to a front-nine 42.
She said she "turned it on" when she stepped up to the tenth tee.
"I went on a pretty long par streak on the back nine," Innes said. "I bogeyed one hole until I got to 18."
Heading into the par-5 18th hole, Innes was sitting at 32. Par the hole and a 79 would follow.
"I was on in three," Innes said. "and I missed a one-and-a-half-footer. I will be replaying that putt forever in my mind."
And, for good reason.
Not only would Innes have broken 80, the bogey forced a playoff for the individual championship.
Innes lost the first playoff hole - the par-4 ninth - settling for second overall, besting last season's third-place finish.
"I pulled it into a hazard on my approach," she said. "And that was it."
Innes' 80 was also the senior's season-low round.
Nicholson also shot a season-low Tuesday, earning a career-best regional finish of fifth-place.
Her 88 was nine strokes better than her previous season-low, and the sophomore said the timing couldn't have been better.
"The key was that I had a clear mind out there," Nicholson said. "I felt confident in my game
and the round just came - at the perfect time."
Nicholson birdied the first hole on her way to a front-nine 43, finishing the back with a 45.
"I didn't know standings-wise where I was on the leader board," she said. "I just knew I was only seven over coming up 18."
Nicholson double-bogeyed the final hole as Roberts watched.
"It was kind of funny to see her," Roberts said. "She couldn't feel anything, and she was shaking all over the place. But to see her shoot her best round on the most important day is awesome."
Papoulas' mission of matching season-best scores with her teammates came to a halt on the par-5 fifth hole.
The freshman had two unplayable lies on the hole, eventually carding a 13 on her way to a front-nine 59.
"The ball was in all kinds of dirt, sand and rocks," Papoulas said. "I couldn't get it out. That hole killed me."
Papoulas regrouped to shoot a 56 on the back, but her round of 115 wasn't good enough to place.
"The nerves playing in it (the regionals) for the first time are brutal," Roberts said. "Heather went through it last year and came back and smoked it. Callie will do the same thing next year."
Papoulas agreed.
"I learned a lot out there today," she said. "I learned that even if you have a bad hole, you can't get mad about it. It's not going to help. You have to keep your cool, which I have a problem with, but I did pretty well with it today. I did okay, it wasn't my best, but it was okay.
"I'm excited for Heather and Meghan though."
Roberts said she thought it was "borderline" that MCHS would qualify two individuals for state, but when the final round at Devil's Thumb was finished and she learned two-thirds of her team had made the cut, she sounded like she knew the whole time.
"I said last week that these girls were peaking at the right time," Roberts said. "They did. All that hard work they put in this season is paying off."