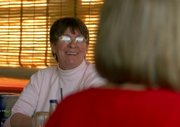 Back in the day.
The phrase cropped up occasionally as Bonnie Revelle, retired teacher and Delta Kappa Gamma area chapter president, looked back on her time in the group.
The group, which was made up of Moffat County women teachers, once hosted an annual garage sale to raise funds for a grant the group awarded to senior girls in the area who planned to become teachers.
But, it wasn't always done that way.
"Back in the day, when I first started," Revelle said, "we didn't have garage sales. We made things and sold them to each other."
Like the hand-knitted items its members once sold as a fundraiser, the Alpha Lambda chapter of Delta Kappa Gamma is now also part of the past.
Because of lagging membership, the group recently disbanded, ending its 41-year history in Craig.
About eight members gathered at the Tin Cup Grill on Monday night to remember their time in the organization.
Janet Sheridan was among them. A retired teacher with about 40 years teaching and administrative experience behind her, Sheridan still has the mug that Alpha Lambda members gave her when she came to the district.
She later joined Alpha Lambda's ranks in 1997, according to the organization's records.
"Being new to the district, it allowed me to make friends with fellow teachers very quickly in a most warm and generous group," she said.
Chapter members met monthly to discuss professional development and other education-related topics, said Joanne Birdsall, who has been an Alpha Lambda member for 16 years and is a Craig Middle School teacher.
Still, discussion topics sometimes included group member's personal interests and hobbies.
Katy Gray, who teaches various subjects at Moffat County High School including English, journalism and anthropology, has been an Alpha Lambda member for about 20 years. She said she remembers hosting a presentation on rock art at one meeting.
"We not only talked about education in general or (teaching) specifically in Craig, but we tried to educate each other," Revelle said.
Group members also hosted appreciation dinners for school secretaries, bus drivers and other school employees.
Over the years, however, the number of group activities dwindled.
"As membership declined, we did less and less," Revelle said.
Currently, 13 educators belong to the group, Revelle said, eight of whom are retired.
Finding young blood for the group has long been a challenge.
"We've been struggling along with less than 20 (members) for quite a long time now," Revelle said.
Remaining group members think they know why.
Between the pressures of standardized testing, daily teaching duties and family life, Revelle said, many women teachers don't have time to join the group.
Gray agrees.
"I think it's a lot like any clubs right now," she said. "People are so busy they don't have enough time to enjoy those kinds of things."
A lack of free time isn't the only change longtime Alpha Lambda members have noticed since they joined the group.
Education "is a lot more than just teaching in your classroom," Birdsall said. "It's a lot more collaboration with other people."
Sheridan thinks school accountability to state and federal entities also has made a mark in education.
"We were always accountable because we held ourselves accountable for high performance," Sheridan said. "But now there are outside pressures."
Jo Ann Baxter, who has been a member of the group since 1984, agreed, but added a clarification.
"Some outside pressures," she said, "are more realistic than others."
As the afternoon sun began to sink, group members, including Birdsall, talked about how they would stay in touch now that the chapter will no longer meet.
Revelle said chapter members probably would miss time spent with each other more than the garage sales and the meetings.
"I think I'll miss these gals right here because I don't think we'll see each other as much," she said, looking around the table.