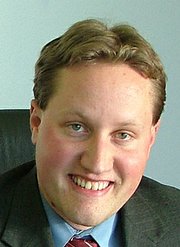 A once vacant position in the Moffat County office of the 14th Judicial District has been filled with a familiar face and - more importantly - one already acquainted with the local judicial system.
Ed Veronda, 26, a deputy district attorney in Moffat County for a year, from October 2006 to October 2007, returned at the end of April. He spent six months working in the Judicial District's Steamboat Springs office.
"I'm glad to be back, and I think Craig is the friendliest town in the Yampa Valley," he said, adding that his knowledge of the area, local residents, judges and defense attorneys should be helpful in his new position.
Veronda fills a vacancy created by the departure of Brett Barkey, the former Moffat County chief deputy district attorney, who resigned in March after 10 months on the job.
Veronda's roles from his first stint in Moffat County to now, however, are quite different. He began work in 2006 as a county court attorney, handling misdemeanors and some felonies.
Now, he and fellow deputy district attorney Jeremy Snow are splitting Barkey's duties as felony prosecutor, a job that requires each prosecutor to juggle 30 to 40 cases at a time and handle about 100 felonies a year.
Veronda said the Moffat County vacancy offered an opportunity of "spreading out" to bigger and more serious cases. His time away from the office prepared him well to handle those cases upon return.
"It was definitely beneficial," Veronda said. "I got to learn from an experienced prosecutor, (assistant district attorney) Kerry St. James, and I got to do a lot of trials. : I'm a lot more experienced, I learned a lot from mistakes, and I won't make them again."
As a prosecutor, he described himself as "honest, fair, reasonable and able to listen to both sides."
While some things in Moffat County have changed, Veronda said, one that hasn't is the problems methamphetamine use and trafficking cause. Fortunately, there are good people in place in law enforcement, he said.
"Meth is the biggest problem, but I think we have some great (people) in (the All Crimes Enforcement Team) and the district attorney's office trying to fix it," Veronda said.
Allegations of drug distribution, including methamphetamine, is at the center of a case Veronda calls "one of the biggest cases the office has handled in my time," referring to the cases against nine men accused of operating one of the largest distribution networks in Northwest Colorado.
Both Veronda and Snow are handling the prosecution.
Although Veronda's first go around in Craig wasn't lengthy, he said he's hoping for a longer stay this time around.
"I plan on being in Craig as long as the District Attorney will keep me," he said.