Photo Gallery
The 2008 Sombrero Great American Horse Drive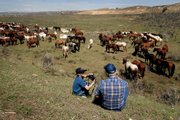 The sun was still high in the sky Sunday as cowboys and cowgirls rustled about the mess hall at Craig Ranch.
All was quiet, as bellies were being filled after a long journey.
Sixty-two miles, to be exact.
The Sombrero Great American Horse Drive came to a conclusion on this warm spring afternoon, and those who participated said it was a great success.
The horse drive was a "big time" success said Craig Ranch co-owner Rex Walker.
"Considering how miserable the weather was at the start, we had two good days."
All the horses and riders returned safely.
"It was a weird-free year," Walker said.
Forty riders paid to drive more than 300 horses from Brown's Park Ranch to Craig Ranch, located approximately 10 miles east of town.
"It's some pretty rough terrain out there," Craig Ranch-hand Chris Weekley said. "Sixty-two miles in two days. Everything went good. The outsiders did great. They bring a lot of fun to the drive."
To many of the "outsiders," the fun was found in the drive itself.
Lester Aradi is the chief of Police in Largo, Fla. He was surfing the Web with his wife, looking for a vacation experience "like no other," when he found the horse drive.
The drive was full, but after a short stint on a waiting list, followed by a cancellation, Aradi said, "the rest is history. Here I am."
"The ride is absolutely incredible," he said. "You cannot describe it. First of all, Colorado is so beautiful, but you cannot describe the overall exhilaration that you get from participating in something like this.
"I will definitely be back to do this next year."
"Rattlesnake" Ronald Knaack was back.
The Hawaii resident earned his nickname last year.
Thrown from a horse startled by a rattlesnake, Knaack broke his hip last year and couldn't finish the drive.
He returned to finish - complete with Hawaii labeled leather chaps with a rattlesnake engraved on the back - what he started a year ago.
"You've got to finish what you started, no matter what," he said. "Now, I finished it."
Thirty-seven of the 40 guests earned a belt buckle - awarded to those who drive the horses through both ranch gates.
"Some don't always make it," ranch-hand Sara Pinkard said. "It's really nice out there (on the range). You can see for miles, but sometimes you get a little beat up.
"There's no fun in it if you don't come back with a few bruises."
Mike Tuttle and his family finished bruise-free.
Tuttle is from Texas, but he came to Colorado to drive horses.
"We drive cattle in Texas," he said. "Here, they drive horses."
Tuttle said his family takes numerous vacations each year, but if family members had to choose just one, Tuttle said the Sombrero Horse Drive would win hands down.
"To see that many free horses, and stepping back into time, like the Old West, is irreplaceable. I always get teary-eyed when I'm out there, taking it all in."
Retired FBI agent and Vietnam Veteran Tom Reilly made his third trip driving the Walters' horses.
Reilly also is a cancer survivor.
Proclaimed cancer-free in 2005, Reilly said he re-adjusted his life's course.
"I realized there were more things I wanted to do now that I had a second chance," he said. "I've been around horses my whole life, and this happened to be one of them."
He hasn't missed a drive since.
"It's a throwback to past times that you only have read about. You get the experience here to live it. Herding up so many horses on so many acres, it's a beautiful feeling.
"There is none other like it."