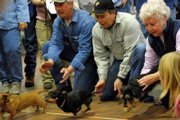 KRAI/55 Country Spring Expo contest winners
Crawling baby race
• Mountain Meat and the Tin Cup grill hosted the second annual crawling baby races at 9:30 a.m. Saturday.
• 15 babies competed in the event.
• Jayden Cromer, son of Shirley and John Cromer, took first place in the competition.
• First-place prizes included a Tin Cup Grill gift card and a Mountain Meat sausage bundle.
Weenie dog races
• Mountain Meat and the Tin Cup grill also hosted the seventh annual weenie dog races.
• Kevin Deatherage and dog, Maddy, won the event, in which 24 dogs competed and more than 250 people watched, said Frank Hanel, KRAI/55 Country owner and general manager.
• First-place prizes included a Tin Cup Grill gift card, a sausage bundle from Mountain Meats, gift bags from the Northwest Colorado Visiting Nurse Association and a Tracey Spencer Photography package.
Craig Daily Press Sudoku tournament
• Craig Daily Press sponsored a Sudoku tournament Saturday from noon to 3:30 p.m. About 20 people competed in age categories, ranging from ages 8 to 65.
• In the championship round, Craig resident David Soule, 29, competed against Gracie Power, 12, and Kara Petterson, 13.
• Soule placed first in the final round, winning a total of $175 in Spree Dollars.
Craig — What does it take to sell a product?
Mike Butler, owner of Butler Bird Boxes, knows.
As he sat at his booth in the Centennial Mall during the 25th annual KRAI/55 Country Spring Expo on Saturday afternoon, he pointed to the two bird houses - or bird boxes, as he calls them - lying near his chair.
Two hand-crafted bird houses were all that were left of the 30 samples he and his wife, Annabelle, brought to the show. He sold the rest to people meandering by his display Friday and Saturday.
"It's the best we've done yet" at area craft shows, he said.
The secret: interaction.
"No one wants to buy something from someone who's sitting back doing nothing," he said.
Frank Hanel, KRAI/55 Country owner and general manager, said he was of the same opinion this year.
At the expo, 47 vendors, including nonprofit organizations and merchants, attended the expo, said Vicki Gutierrez, the radio station's sales manager.
Hanel said all of them had to meet two conditions: They had to be present for both Friday and Saturday showings and they had to be doing something to engage the 4,000 or so people who came to the event.
"We're trying to improve the experience of the people who come to the expo," he said.
Did the plan work?
Hanel thought so.
"People are having a good time, staying longer," he said, surveying the crowd from inside one of the mall's unrented spaces Saturday afternoon.
About half the nonprofits that usually come to the expo attended this year's event, Hanel said - a change he attributed to the requirement that vendors be present both days.
"We did feel bad about that," he said. "We feel it's a big community service" to have nonprofits at the expo.
Still, turnout at the event, both from vendors and visitors, was average from previous years, Gutierrez said.
Requiring vendors to interact with people who came to the expo "made a huge difference" this year, she said.
And informational booths put on by local nonprofits and businesses weren't the only attractions at the expo.
A crawling baby race, a sudoku tournament and a weenie dog race offered residents a chance to compete against each other.
Hanel said he thought this year's expo was an overall success.
Gutierrez agreed.
The Friday and Saturday event was her 20th time being involved with the spring expo, she said.
"This is one of the best (expos the radio station) has ever had," she said. "The fun factor was way up."