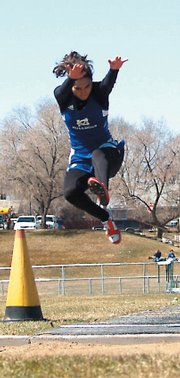 Craig — On Friday, Moffat County High School track coach Gary Tague said he was looking to "feel out" his individual athletes at the Bulldogs meet the next day in Rangely.
He said he "never tries to necessarily win the meet," - it's more about "pacing."
The Bulldogs proved Saturday they are ahead of the pace.
Junior Erin Urbanoski won the girls long jump, senior JT Haddan won the boys shot put, junior Alicia Nelson won the girls 800-meter run, sophomore Brian Ivy won the boys triple jump and the girls sprint medley relay team of junior Kylie Bauman, freshman Lauren Roberts, Urbanoski and Nelson, claimed first, as well.
"I'd have to give it a nine" out of 10, Tague said of the meet. "The kids did well. I had kids that had never run track, and they got in their first races and were pretty excited. If my guys beat Erin Urbanoski, they were pretty excited about that."
Urbanoski is the defending 4A state champion in girls long jump.
The junior leapt a distance of 16 feet 8 inches, to claim her second meet title of the season.
Urbanoski also ran a time of 12.9 seconds in the 100-meter dash, claiming third place.
Nelson captured the girls 800-meter title with a time of 2:29, while freshman Maddy Jourgensen finished in 2:37, placing fifth.
Junior Myiah Bengston recorded a distance of 31 feet, 6 inches in the girls shot put, earning fourth place.
Sophomore Shylar Hadley placed sixth with a throw of 31'1''.
The girls 4x100 relay team of Bauman, Roberts, Urbanoski and Nelson ran a time of 53.4 seconds, earning third.
Haddan threw 144 feet in the discus, adding a second-place finish in the event to his first-place toss of 49.8 feet in the shot put.
Ivy's triple jump of 42'7" earned him his second title of the season in the event.
Senior Mike McNicol returned from a sore Achilles to win the boys 800-meters, easing his way around the track in 2:05.
"Mike will get a real test coming up soon," Tague said. "If he gets around to running the 800 next week, he'll have to go up against the defending state champ who wasn't at this meet."
Next week is next week, and Tague said this week's meet was perfect in many respects.
"Several of our throwers threw their best ever," Tague said. "We had some really solid competition, and we did well. The weather was nice with no precipitation. We had a good weekend."
John Vandelinder can be reached at 875-1793, or jvandelinder@craigdailypress.com