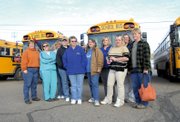 Craig — For each of the Moffat County High School sports teams, the road to a state championship is a long and windy one.
It's a road the teams have spent endless nights and days on, traveling all over the state - as well as states near, and not-so-near - playing out their given schedule.
MCHS is in the farthest outreach of Northwest Colorado; so much of the school's athletic teams must travel great distances to arrive at their games' locations.
Rain or shine, snow and ice, the teams still must play the games.
Regardless of sport, MCHS athletes must get used to the road.
And when the Bulldogs inevitably do leave town, it's all the same way.
On the bus.
At the helm are the women responsible for transporting the high school's future champions intact.
Most times, the trips go exactly as planned.
But every now and then, there is a snag in the road.
Sometimes because of weather.
"We had a heck of a time getting to Greeley for basketball this year," 26-year veteran bus driver Valerie Pfifer said. "There was two wrecks on the way to Steamboat and an accident on top of Rabbit Ears. We left here at 8 and got into Greeley around 3."
Sometimes because of team discipline.
"One time, somebody on the football team said a naughty word," Pfifer said. "And coach (Kip) Hafey told me to find a safe place on the road. The whole team had to get out and do up-and-downs on the side of the road."
And sometimes, because of sheer silliness.
"I had the wrestling team inhaling helium balloons," driver Makeysha Slaugh said. "They were all singing in that high voice you get. I thought I was going to go crazy."
Because they transport a team to its event doesn't necessarily mean the drivers watch.
Some peek inside a gymnasium or two during a game or contest, but most said the time is spent trying to catch up on their sleep.
"I bring a blanket and a pillow," Pfifer said. "And I curl up between the seats and take a nap. It's not easy getting comfortable on those benches."
The drivers battle many different obstacles on each journey, and according to them, much of their driving success comes from training, skill and coffee.
"I don't know what I would do without iced coffee," Pfifer said. "Us bus drivers probably keep McDonalds in business."
Penny Southwick drove MCHS teams around for 20 years before moving to the dispatch position.
"I remember my very first trip," Southwick said. "I locked my keys inside the bus, and it snowed like a foot deep. It took me three and a half hours before I found a pole long enough to unlock the door."
Tracey Spindola recalls taking the wrestling team to a mall during this year's Warrior Classic, when an accident forced half of the team to arrive late.
"We didn't get back until around midnight," she said. "There was no coaches and the kids wanted to get out and wrestle on the highway."
The team didn't get out of the bus, and for good reason: the MCHS drivers know what is allowed and what is forbidden.
Each undergoes a two-year training cycle to be able to chauffer the Bulldogs, and a standing seniority rule reigns.
Many of the drivers work part time, so the extra hours added to a paycheck is a hot commodity.
"You have to have two years experience to even be eligible," Pfifer said. "Then it's all about seniority. We all want the extra hours, so there is never a shortage of drivers."
Each driver said they have a wall of honor in their buses - a collage of student photos - that they use to remember kids and athletes alike.
Each said they always have been respected by the athletes they shuttle, and that given the opportunity, they wouldn't hesitate to hop in the driver's seat at short notice.
"All the athletes get on, talk nice to me and treat me good," Pfifer said. "You get to thinking, 'What's our world coming to?' and then you take a trip and a junior or sophomore gets in and says, 'Ma'am do you need anything? I'm going in, want me to get you anything?'
"So, there's hope for our kids after all."