Photo Gallery
Arrests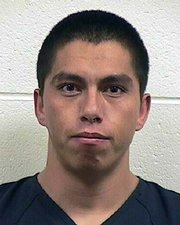 Craig — In one of its largest operations to date, the All Crimes Enforcement Team arrested 11 Hispanic men Tuesday night in Craig believed to be tied to organized crime.
"To my knowledge," ACET Commander Garrett Wiggins said, "this is the biggest organization we've been able to investigate and bring down. This individual organization was very, very hard to infiltrate. We were able to do that.
"They're part of a larger drug trafficking organization we believe are tied to Mexican organized crime."
About 8 p.m. Tuesday, 25 to 30 authorities from the Moffat County Sheriff's Office, Craig Police Department, 14th Judicial District Attorney's Office and Immigration and Customs Enforcement served a search warrant at an apartment complex in the 400 block of Tucker Street in Craig.
The search warrant stemmed from a lengthy methamphetamine and cocaine distribution case ACET had been investigating, Wiggins said.
According to the Moffat County Jail, each of the suspects were arrested on suspicion of unlawful distribution. They are:
• Horacio Contreras-Alcala, 34
• Armando Zavala-Flores, 37
• Marco Contreras-Alcala, 31
• Juan Luis Contreras-Alcola, 24
• Heriberto Chavez-Hernandez, 21
• Edgar Bladimir Pena-Villalva, 28
• Arcadio Contreras-Alcala, 28
• Randalfo Valenzuela-Lopez, 23
• Ariel Iran Pena-Diaz, 27
• Abel Gonzalez-Vivanca, 35
• Julio Cesar Carlin-Robles, 36
One of the suspects, Marco Contreras-Alcala, also was arrested on suspicion of being a "special offender" and prohibited use of a weapon.
According to jail records, each of the men was born in Mexico.
ACET reported that at least 10 of them are in the U.S. illegally - one of them claims to be a legal resident, but the task force can find no proof of it - and none appear to have legitimate employment.
Wiggins said the men are suspected of "operating one of the largest drug trafficking organizations in Northwest Colorado." Money, drug paraphernalia, a firearm and methamphetamine and cocaine with a $30,000 street value were seized during the search.
The men arrested are suspected of selling drugs in Moffat, Routt and other Colorado counties, ACET reported.
Wiggins said he believed the suspects were bringing the narcotics into the U.S. from Mexico.
"This is a huge accomplishment in the war against drugs affecting our communities in Northwest Colorado," he said. "This is a perfect example of the type of success that can be accomplished when local law enforcement agencies and concerned citizens work together as a team of one to keep our communities safe and drug free."
There were no injuries to either authorities or suspects during the search.
"When you're dealing with these type of individuals, the potential for violence is always there," Wiggins said. "But, we hit them hard and fast and they didn't realize what was happening until it was too late."
Tuesday's arrest is the largest for ACET since nabbing 15 people in December 2005 for methamphetamine-related charges. That sweep, completed under ACET's former title, the Greater Routt and Moffat Narcotic Enforcement Team, was one of the largest in Moffat County history.
Wiggins said the latest sweep was different in that the suspects arrested were believed to be part of a singular organization, rather than individual dealers like in December 2005.
Formal charges are expected to be filed against the suspects Friday, the 14th Judicial District Attorney's Office reported. Prosecutors anticipate bond for the suspects will be set today.
The District Attorney's Office reported that, as a general rule, a stern approach is taken on distribution cases.
"Our office feels that illegal drugs are one of the biggest threats to Moffat County," prosecutors stated in a press release. "We intend to vigorously prosecute all drug distribution cases in order to make our community a safer place."
Wiggins said Tuesday's arrests should "serve as a warning to all those who choose to commit crimes and deal life-destroying illegal drugs that burden our way of life, that we, as a community, will not sit idle and watch crime and drugs destroy our neighborhoods and communities."
"Those individuals (who) choose to make crime and drugs a career choice might be the next individuals to make the news because we will never stop fighting what is worth fighting for," he said. "Never."