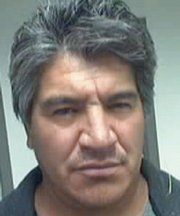 Steamboat Springs — An assault in Hayden left a man seriously injured Monday morning, and police are searching for the suspect.
Witnesses reported that 45-year-old Jose Mendoza of Hayden was pulled from his vehicle and beaten in the 300 block of East Washington Avenue, Police Chief Ray Birch said. An arrest warrant has been issued for Eduardo Gallegos-Reyes, 47. He has been charged with first-degree assault, a Class 3 felony.
Gallegos-Reyes was described as 5 feet 7 inches tall and 180 pounds, with black-gray hair and brown eyes.
Birch said police think Gallegos-Reyes was angry because his landlord asked him to vacate his residence on Washington Avenue. Mendoza lives on the same property in a different unit, Birch said.
"Apparently, (Gallegos-Reyes) was upset about that and confronted his neighbor and initiated a verbal altercation," Birch said.
According to the arrest warrant affidavit, witnesses said Mendoza did not fight back when he was pulled from the vehicle. The suspect began hitting Mendoza with his fists, the document stated, and then Mendoza got back into the vehicle.
Gallegos-Reyes pulled him out a second time, according to the affidavit, and a witness estimated that "the suspect hit the victim with his fists six or seven times in the face." The witness reported that she left her house and called for the man to stop, at which point he left the scene.
When police arrived, they found Mendoza in his home with his wife. There was blood in the snow near the driveway, police reported, and they called for medical assistance.
Officers reported in the affidavit that Mendoza's right eye was swollen shut and that he had a golf-ball-size lump on his left forehead.
Birch said Mendoza was already blind in his left eye from a childhood accident. The incident Monday left him "practically blind" because his right eye was so swollen, Birch said.
Mendoza was taken to Yampa Valley Medical Center. He has been released.
Police had not located Gallegos-Reyes as of Tuesday afternoon. They identified him as a suspect with the help of Immigration and Customs Enforcement in Craig, which had his fingerprints and photo on file. Gallegos-Reyes was in the U.S. illegally and had been voluntarily deported back to Mexico in April 2006. Authorities said they think Gallegos-Reyes is in the country illegally.
Birch said police think Gallegos-Reyes has been in Hayden about seven months and that he has worked jobs in the area, including in Steamboat Springs.