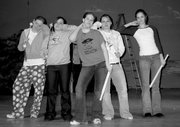 Meeker — The Meeker High School Drama Club and International Thespian Society Troupe 1284 presents the classical musical comedy "The Pirates of Penzance (or the Slave of Duty)," by William S. Gilbert and Sir Arthur Sullivan next weekend.
Shows are scheduled for 7 p.m. Friday and March 29 at the Meeker High School Auditorium. There is a matinee at 3 p.m. March 30.
"It's kind of a parody on the British aristocracy and the police structure at the time. : There is a lot of subtle humor in it," said Bob Amick, technical director for the Meeker High School Drama Club. "I think (the audience) will really like the way the kids interpret the roles. I think mostly, it's just a hilarious play and the music is really cute, too."
The classical production branches off from the drama club's most recent ventures.
"We've been doing a lot of musicals : and we just decided that we would like to do one of the more classical 19th century (plays) that Gilbert and Sullivan did," Amick said.
Just because it's a classic, don't expect it to be the same old play.
"Because it is in the public domain you can add things to it, where you can't with the licensed plays," Amick said. "So, we've done some things with it. Some of the kids kind of ad-lib and do some different things."
Mandi Etheridge directs the musical comedy, which is set on the coast of England in the mid-19th century.
Actors include Marc McDonald as the "Pirate King," Kelsey Kendall as "Mabel," Carlin Daggett as "Frederic" (the Pirate Apprentice), Clare Balloga as "Ruth" (the Pirate Maid) and Justin Carroll as "Major General Stanley." Playing the swashbuckling "Pirates" are Caleb Dodds as "Samuel" (the Pirate Lieutenant), Marc Schultz as "Jack Sparrow," Mick Mobley as "Captain McLovin'," Mark Pappas as "Aaaargh," Garrett Griffin as "Steve, the Pirate." Playing General Stanley's Daughters are Shawnie Gerloff as "Edith, "Alyssa Sawyer as "Kate," Laura Glass as "Isabel" and Elyssa McLaughlin as "Buttercup."
Reluctant adversaries of the Pirates are played by Mikayla Brink as the "Police Sergeant," and Mindy Clark, Monica Matlock, Meg Nieslanik and Rachel Smith as the "Constables."
Technical production crew includes Donny McKee, senior lighting designer/console technician; Sawyer Bivens, lighting designer/spotlight technician; and Logan Sanderson, sound designer/technician.
"We hope that people will join us," Amick said.