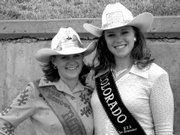 Craig — Robin Brumback remembers her daughter Stevie had lots of plastic horses as a child.
She had boots, too.
Robin also recalls another day.
"One time, Stevie and I were in a fast food restaurant and a kid came in wearing a rodeo jacket. 'Mom, someday that's what I want,' she told me."
And join a rodeo team is just what Stevie did.
Eighteen-year-old Stevie Brumback has competed with the Moffat County High School rodeo team for all four years of high school. This year, she's the lone senior on the team.
Stevie is the daughter of Tom and Robin Brumback. They live outside of Craig, where there's room for horses and five dogs. Stevie has four older sisters.
"When I was younger," Stevie said, "I rode Grandpa and Grandma's horses. Finally, we moved and were able to get our own horses."
Grandpa and Grandma are Bob and Jean Hayes of Hayden.
Stevie began competing with her horses in 4-H long before high school. Robin said Stevie got "tons of ribbons."
Two such awards include Reserve Champion in halter at the Moffat County Fair with her first horse, Dawson, and a buckle at the Routt County Fair, riding in Western Pleasure youth division, with her second horse, Buck.
As a freshman and sophomore on the Moffat County High School rodeo team, Stevie competed in goat tying and breakaway roping. Now, she competes mostly in barrel racing and pole bending on a horse named Drac. However, Stevie said she may start breakaway again because her new red dun mare, Shay, knows how.
Stevie said, "I'm my horses' coach. It's my responsibility as their rider to make sure they're ready to compete."
Her horses are pretty much trained, but Stevie said she goes over the basics with them to make sure they're conditioned.
Being involved in rodeo means a different life for Stevie. For example, her morning routine.
"I wake up and get ready to go to school," she said. "Then, I feed the horses. I don't eat before my horses eat."
She explained why.
"My grandpa was a sergeant in the army. He told me that he wouldn't eat until his men had eaten. I took that with me and put it toward my horses."
After school, she checks the horses again.
Stevie said she keeps on top of their diet so they get the right amount of vitamins and nutrients and have plenty of water available.
The horses get a grass/alfalfa mix along with a Formula 707 product. Tahition Noni Equine Essential (a juice extracted from the noni fruit) helps build up the horses' immune systems and helps keep them from getting stressed.
Stevie rides four or five days a week to keep the horses in shape. In summer, she rides in the arena at her home. In winter, she trailers the horses to Craig, where she rides in the indoor arena.
Starting the last weekend in March, Stevie and her mom will begin traveling to state competitions in Cortez, Golden, Henderson, Eagle, Fort Collins, Colorado Springs, Pueblo, Monte Vista, Rocky Ford and, possibly, Longmont. The state finals are in Lamar.
Stevie said she and her mom stay in the trailer where "I can be right there next to the horses."
However, if it's really cold, they stay at a motel.
Two awards that Stevie has received during state competition are the NBHA District 10 Final 3D Average Championship (on Drac) and Division Reserve Champion (on Woody).
Stevie also has competed for Colorado State High School Rodeo Association Queen. This meant preparing and memorizing a speech of no more than two minutes, completion of a written test covering the rules of the Colorado High School Rodeo Association, interviews with the judges, answering an impromptu question, completion of a reining pattern on horseback and modeling - all in one day.
In 2006-07, Stevie was first attendant to Denise Sims of Durango.
"She beat me by two points," Stevie said. "I couldn't have lost to a better friend."
As first attendant, Stevie received a crown and sash.
At the rodeos, during the grand entries, Denise carried the American flag and Stevie carried the Colorado Flag.
When Denise went to Springfield, Ill., to compete for National High School Rodeo Queen, Stevie got to go with her.
Stevie competed for Colorado State High School Rodeo Queen in 2007-08 and was again named first attendant, this time to Kaitlyn Olsen who lives near Greeley.
Stevie said she has a strong bond with her family.
"Mom goes with me to the rodeos," Stevie said. "She has never missed one. She's always there for me."
Dad comes when he can, but he has to stay home so he can care for the other animals.
"Mom and Dad are my rock. We're a team. I couldn't do it without Mom and Dad."
That goes for Grandpa and Grandma Hayes, too.
"My grandpa and grandma support me," Stevie said. "I've learned a lot from Grandpa over the years.
"One day, Grandpa and I were watching the Wrangler National Final Rodeo on television, and I said, 'Papa, I'm going to qualify for national finals, and when I do, I'm going to send you and Grandma tickets to watch me.'
"He looked at me and said, 'Babe, if you qualify for NFR and send me a free ticket to watch, I'll wear a tuxedo to the finals.'
"My Uncle Jim Hayes was there. He said he would wear a tuxedo, too."
Stevie would like to attend Northeastern Junior College next year. Her other plans include breeding and training quarter horses and barrel horses and going pro.
As for going pro, Stevie said, "Even when I turn pro, I'm going to make Mom come with me."