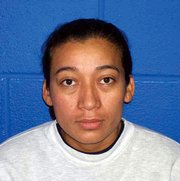 Steamboat Springs — Luz Cisneros, the Steamboat Springs woman accused of killing her 1-year-old daughter, entered a plea of not guilty Thursday in Routt County District Court. Her trial is scheduled to begin in September.
Cisneros is charged with first-degree murder for the Sept. 6, 2007, death of her daughter, Brianna Simon, at their Walton Pond apartment. Cisneros, a legal resident alien of Mexico, could face life in prison or the death penalty if convicted.
Judge Michael O'Hara set her trial for Sept. 8 to 16. Cisneros' public defender, Sheryl Uhlmann, announced her intention to request a change of venue because of the amount of pretrial publicity. Brianna Simon's death is the first suspected homicide in Steamboat Springs since 2000.
In court Thursday, O'Hara also ordered the creation of a separate mental health case for Cisneros, to allow her to receive additional mental health evaluations at the Colorado Mental Health Institute in Pueblo. Cisneros had two stays at the Institute after her arrest, but was returned to Routt County Jail because, according to state statute, mental health commitments cannot be brought against someone with pending criminal charges without a special order from the court.
Cisneros has been in custody at Routt County Jail continuously since Dec. 20. She has been under 24-hour suicide watch, receiving constant supervision, Routt County Sheriff Gary Wall said in court Thursday.
In the mental health case, O'Hara entered a finding that a mental health evaluation would be appropriate, despite her pending criminal charges, if Cisneros is found to pose a danger to herself or others. Cisneros was expected to receive a new evaluation by Steamboat Mental Health officials Thursday night or today. She will "possibly and likely" return to the Colorado Mental Health Institute in the next few days, O'Hara said.
Cisneros has remained in custody at the county jail or in Pueblo since her Sept. 6 arrest. At a Dec. 5 court hearing, county court Judge James Garrecht denied setting bail in her case.
Cisneros also has been charged with two misdemeanor counts of violating a protection order since her incarceration began. The charges stem from her alleged attempts at contacting her longtime boyfriend and Brianna's father, Isaias Simon. That case will be heard alongside the murder case.
Cisneros was arrested the same day as the alleged murder. According to sworn police affidavits, Simon called 911 the morning of Sept. 6 to report that Cisneros was holding a knife to their daughter's neck and stomach. Cisneros told Simon she broke his cell phone and hid her phone, prompting him to leave their apartment to go to a neighbor's home to call for help, according to the affidavits.
Simon told police the door to their apartment was locked when he returned. Officers who responded to the 911 call forced their way inside, and, according to the affidavits, saw Cisneros come down the stairs holding her injured daughter. One of the officers said he saw a laceration on the neck of Cisneros and her daughter.
Brianna was taken to Yampa Valley Medical Center, where she was pronounced dead. A preliminary autopsy report indicated the 1-year-old died from a "total transection of the left jugular vein" due to an "incised wound to the neck."
Cisneros was taken to the hospital for treatment of her injuries, and booked into Routt County Jail later than night on charges of first-degree murder.
During a pretrial hearing in December, prosecutor Kerry St. James argued that Cisneros had the "long-standing intent and deliberation" to kill her child. Cisneros used Brianna as a "pawn" in arguments with the baby's father, St. James said.
Cisneros' public defenders argued that the defendant's state of mind at the time of Brianna's death precluded her from committing first-degree murder, which requires Cisneros to have acted with intent and after deliberation.
"There are significant questions about Ms. Cisneros' mental state," Uhlmann said during the December hearing. "The overwhelming evidence is that this is a woman who, under normal circumstances, loved and took tremendous care of her child."
Cisneros is due to appear in court at 8:30 a.m. July 17 for a 1 1/2-day motions hearing. A pretrial conference is scheduled for 1 p.m. July 25.
The murder trial will begin at 8:15 a.m. Sept. 8.