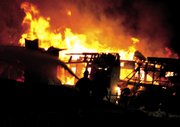 Craig Fire/Rescue firefighters extinguished a house fire early Tuesday morning in Moffat County, after battling the blaze for about five hours.
The fire began at a home at 97547 U.S. Highway 40 about 8:50 p.m. Monday. Firefighters were dispatched to the home after it was reported that an explosion occurred when the homeowner attempted to light a wood stove.
Craig Fire/Rescue Chief Bill Johnston said firefighters determined the cause to be a leaky gas line.
The line allowed the home to fill with propane, and when the homeowner tried to light the stove, the home exploded, the fire chief said.
The homeowner, who is unidentified, was transported to The Memorial Hospital for treatment to burns. The patient's condition is unknown.
Hospital spokesperson Samantha Johnston said patient privacy laws prohibited her from commenting on the homeowner's identity or medical condition.
About 20 firefighters, five engines and two tankers responded to the fire. Suppression efforts continued throughout the night and were completed about 2 a.m.
The home is a total loss, Bill Johnston said.
The fire department has released the property, the fire chief said. He added that the cause has been determined to be accidental and no investigation is warranted.