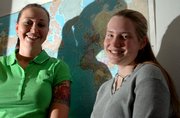 Past trips taken by CNCC groups
• 2000: Rome, Italy
• 2001: Paris, France
• 2002: London, England
• 2004: Venice and Rome, Italy
• 2005: London, England
• 2006: Prague, Czech Republic
• 2007: Athens, Greece
To get involved
• To sign up for next year's Colorado Northwestern Community College international trip, call 824-1135.
• The destination for the 2009 trip will be decided this fall.
• Community members and CNCC students interested in going on the trip are encouraged to get on the college's waiting list as soon as possible.
Julie Hanna didn't permit herself to think about it.
Until Monday.
"I haven't let myself get excited until right about now," she said.
On Thursday, Hanna will be one of 28 Colorado Northwestern Community College students and community members leaving for a 12-day venture through Italy and France.
The college sponsors the annual trip, which offers class credit to traditional students.
The thought of traveling outside the country for the first time leaves Hanna feeling "excited, apprehensive and a little overwhelmed," she said.
Her reason for traveling to countries thousands of miles from home can be summarized in one word: Timing.
"It's the time in my life to break out and experience something" out of the routine, she said.
Hanna's enthusiasm is contagious.
"Now I'm excited," said Mary Morris-Shearer, CNCC community education director, after a phone conversation with Hanna.
Morris-Shearer is one of three CNCC administrators in charge of the trip. She leafs through updated itineraries for the trip, which lists the sites travelers will visit.
The trip will include five days in Italy, and four days in France, before returning to Colorado on March 24.
St. Peter's Basilica, the Colosseum, the Roman Forum and other classical sites await the travelers in Rome. The group also will visit the ruins of Pompeii, an ancient city destroyed by a volcanic eruption, and the National Archeological Museum in Naples.
In Paris, the group plans to visit Notre Dame Cathedral and several art museums, including the Louvre Museum.
Side-trips to the Palace of Versailles and Chartres Cathedral may be in store for the travelers, the itinerary reported.
Morris-Shearer hopes the journey will allow Northwest Colorado residents to experience life beyond their borders.
"It's an opportunity for community members to go beyond their routine travels," Morris-Shearer said.
Mary Karen Solomon, CNCC humanities and English teacher, agrees.
"We are pretty isolated out here," she said. "We don't have a lot of cultural activities."
For the past eight years, Solomon and Kathy Simpson, CNCC biology and math teacher, have helped plan similar international ventures for the college students and local residents.
The college began sponsoring the travels two years ago, Morris-Shearer said, which have taken group members to various locations across the globe.
The college conducted a trip to Athens, Greece, in 2007 and traveled to Prague, the capital of the Czech Republic, in 2006.
In years leading up to 2006, the group made repeat visits to England and Italy and also made its first trip to France.
The group didn't take any travels in 2003, on account of the Iraq War's commencement, Solomon said.
A trip to Spain and Portugal could be destinations for next year's trip, but the location remains "a big maybe," Morris-Shearer said.
Ultimately, college authorities look for locations that afford student safety, learning and enjoyment.
The college determines future destinations by identifying locations of student interest and gauging "the political environment" of those areas, Morris-Shearer said.
Trip members range in age from 15 to older than 60. About a third of those students are taking classes for credit in cultural studies, European art and watercolor painting. The three courses have been tailored to fit the art culture travelers will encounter in France and Italy.
The rest of the group are community members who are enrolled in but don't receive credit for the classes.
Hanna, who is taking the trip solely as a community member, said she is looking forward to lounging in Paris bistros and walking the same Parisian streets her mother traveled almost 20 years ago.
One hurdle stands between Hanna and Europe: Her suitcase and the items she must fit into it before Thursday.
She's not going to let this obstacle stop her.
"I'm going to get everything in the suitcase, by gosh and by golly," she said.