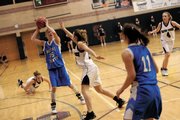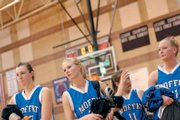 The run is done.
The Moffat County High School girls basketball team ran into a wall Saturday in the girls 4A state quarterfinal game against host Silver Creek.
The Raptors' 6-foot-2-inch senior Meghan Heimstra.
Heimstra scored 27 points, leading the Raptors to a 61-49 ouster of the Bulldogs in the Great 8, Lou Piel region championship.
"I'm disappointed we lost," MCHS senior Desirae Pearcey said. "We didn't help down enough. They have really big girls who post up strong."
Silver Creek, in its third appearance in four years, captured its first region championship to advance to the Final Four for the first time in school history.
"When you finally get this far you realize that you have to focus," Silver Creek coach Dan Kloster said. "It's tough. One of our goals was to have a strong post presence against both Workman and Pearcey."
Heimstra - who was battling a case of the flu - was joined down low by fellow 6-foot-2-inch post-player Jessie Jones, who added nine points.
"I was battling a bug," Heimstra said, "I had to just leave it all on the court."
Moffat County held a 15-11 lead at the end of the first quarter, behind timely three-pointers by Amy Dilldine and Jorgiea Raftopoulos.
The second quarter was the difference.
The Raptors outscored visiting Moffat County, 20-10, in the second frame, taking a 31-25 lead into the break.
Raftopoulos scored out of the half, pulling Moffat County within four, but Heimstra led Silver Creek on an 11-0 run, pulling the Raptors ahead by 12 heading into the fourth quarter.
"It was the third quarter," Raftopoulos said. "We didn't do too good coming out" of the break.
The Bulldogs closed the gap to eight points on back-to-back 3s by Dilldine and Angie Charchalis with 4:58 left in the contest, but Heimstra scored six straight to close out Moffat County's season.
"We couldn't stop their bigs inside," MCHS coach Craig Mortensen said. "They are a good team. They made it tough for us to score. We just weren't able to spring it open."
Senior Markie Workman led Moffat County with 15 points and eight rebounds.
"We saw some new things out there," Workman said. "We knew we had to adjust, but we just couldn't adjust fast enough. We didn't get a lot of shots up."
Dilldine finished with 13 points; Pearcey and Charchalis tallied six points each.
"It's weird to be done, but it was a good run," Charchalis said. "Silver Creek is a good team. They broke us down a lot with their dribble penetration."
Seniors Charchalis, Workman, Dilldine, Pearcey and Raftopoulos are now moving on as the next wave of Bulldog basketball players gets ready to step into their shoes.
It won't be an easy task.
The Moffat County seniors have captured four consecutive Western Slope League Championships, four straight state playoff births, four consecutive seasons ranked in the state's top-10, and a Final Four appearance to go with this season's Great 8 accomplishment.
"I've been with these girls so long I don't know what I'm going to do without them," Mortensen said. "Words can't describe how I feel about these girls.
"We had a great run."
Raftopoulos smiled as she thought back upon her four years on the team.
"It's been a great season," she said. "It's been a great senior year to go out on. I'm glad I've been able to play with such great people like, Angie, Amy, Markie, Pixie (Pearcey) and all the juniors. It's been a lot of fun. So many trips to the state playoffs and so many great memories."
When asked if they could change anything about their careers, Raftopoulos, Workman and Charchalis agreed on the same thing: Winning.
"That's easy," Workman said. "We win and they lose."