El Ranchero Restaurant
From the owner of El Burrito Loco, El Ranchero Restaurant offers traditional Mexican food at 337 W. Victory Way.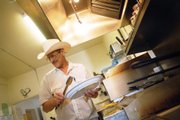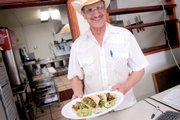 Craig — On a nondescript day in 1978, Eutiquio Pereyra arrived in Craig with a friend from back home.
From the outside, Craig seemed like a usual place. At least, it had the usual work.
That day, Pereyra was a 29-year-old man looking to be a ranch hand. He didn't know he would be here 30 years later, or that he'd own three businesses himself, including the recently-opened El Ranchero Restaurant.
Although Pereyra always thought of owning his own place, it's impossible for a young man to say how the future will play out, he said.
"I was just looking for work," Pereyra said. "I don't know why I stopped here." He chuckled and looked at the wall, seeing if he could jar anything else from his memory.
"Then, I worked for oil companies, came back to ranching and then I worked in construction for a while," Pereyra said. "I guess I have done a lot."
He did a lot for 20 years, and when he opened his first business in 1998 - El Ranchero Grocery at 325 W. Victory Way - the work didn't stop. He couldn't afford to hire much help, and his family was in Mexico.
"I was alone here," Pereyra said. "I was by myself then, so I had to attend the store all the time."
His three sons work in construction, following a similar path as their father, while Pereyra's wife, Irma, lives in Craig.
The store persisted, and staff was brought on. And not long after, about 2004, Pereyra opened El Burrito Loco, a taco and torta truck Pereyra parked behind the grocery store and drove to Steamboat Springs some days.
The truck specialized in fast Mexican classics: marinated pork, shredded beef, steak and chicken wrapped in tacos, the namesake burritos and tortas, which are traditional sandwiches.
El Burrito Loco did good business, Pereyra said, but business was as seasonal as the Colorado weather.
"It's too cold to stay out there in winter," Pereyra said. "Everything inside is metal - you can't keep the water running."
So, when seasonal chills and frost crept into every one of the truck's crevices, Pereyra had to shut down the operation, but not without some ire from the regular customers each year, he added.
"A lot of people would ask us about that food," he said. "They'd tell me, 'You better find a place for a restaurant.'
"Well, we finally got one," he said, smiling bigger and extending a weathered arm out into the dining room of El Ranchero Restaurant, which opened its doors Feb. 23 at 337 W. Victory Way, where Backwoods Diner once resided.
El Ranchero's menu has everything from Burrito Loco's, and adds dishes only possible with a kitchen, such as carne asada - grilled steak, a house specialty - and chili rellenos - stuffed peppers, a local favorite, Pereyra said.
Tacos are served with classic cilantro and onion on hot, fried corn and flour tortillas. Patrons also may sample fresh guacamole salsa, which mixes avocado and jalapeño into something bright green and extra spicy.
It's simple why people come back for Pereyra's food each year, he said, and now come into El Ranchero asking, "Is this the same food as you had in the truck?"
"This is real Mexican food," Pereyra said. "We make everything fresh. I am pretty sure our food is more Mexican than anybody else."
And while Mexico is Pereyra's heritage, he's made Craig his home.
Pereyra has been around the town long enough to see more things change than the small strip where he now owns and operates a restaurant and a grocery store.
It's grown a lot, he said. And, the weather has changed. The winters have become less temperamental as the city has become more prosperous.
But the people haven't changed much, and Pereyra enjoys that, he said.
"There's nice people," he said. "I feel like I did when I just came here."
Pereyra, who still wears his cowboy hat and belt buckle in the kitchen, said he doesn't think he'll move away for any reason anytime soon.
It would be a lot of history to walk away from.
He took off his hat and wiped his brow, sitting down on the table in front of him, as he thought about his future and his past.
"I lost the time," he said. "Time goes by real fast."
A few hours after the lunch rush, the man who built his fortune from weekly paychecks put the cowboy hat back on his head and walked into the kitchen to take out the trash.
Collin Smith can be reached at 875-1794 or cesmith@craigdailypress.com