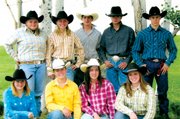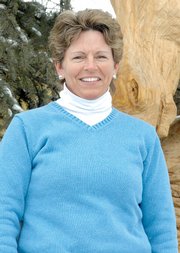 At a glance
Players to watch:
Eric Fleming (junior) - won the boys senior all-around saddle in Little Britches Rodeo winter season
Taylor Vernon (sophomore) - Competes in just about every girls event. Coach Hegwer said Taylor is a good all-around cowgirl who should qualify for the state championship rodeo
Troy Vernon (junior) - Brother of Taylor, Troy is her equivalent in the boys division. Hegwer said Troy is a strong cowboy with all-around skills.
Participants to watch:
Brock Russell (Pueblo) - Russell, a freshman, leads the CSHRA in senior boys bull-riding in his first year on the high school level.
Cody and Tyler Miles (Rifle) - Hegwer said they're at the top of the list in senior boys all-around points.
Dates to circle on the schedule:
April 26 - The rodeo team travels to Fort Collins to compete in what Hegwer said is usually one of the biggest rodeos of the spring season.
May 17 - The rodeo team travels to compete in Eagle, the closest rodeo of the season for the Bulldogs. Moffat County does not host a rodeo this season.
Team Information
League: Colorado State High School Rodeo Association (CSHSRA)
Coach: Jil Hegwer
Assistant Coaches: none
Hegwer with the Bulldogs: 2 years
Returnees: 8
Cowboys/cowgirls lost: one
Craig — The break between the fall and spring rodeo seasons for high school students is about four months long.
For coach Jil Hegwer, four months is too long.
"We don't get the chance to practice as much as I'd like because of the weather," she said. "But we fight to spend time indoors, and we have clinic coming up for the kids, too. The snow kills our practice time. So, we are going to be right back in the thick of things soon enough."
Moffat County High School's cowgirls and cowboys carry the points earned in the fall season with them into the spring season, and Hegwer said the break does little to help keep up in-season momentum.
"We get a head start on the spring season with all that we did in the fall," she said. "We carry over the points and apply them toward the state finals in the end of June."
Hegwer's goal for the spring is to get as many riders qualified to state as she can.
"It would be awesome if we could get some kids to do well enough at state to make it to nationals," she said. "That's our goal here. It's to get as many kids ready to compete on the biggest stage as we can."
Rodeo is unlike the other Moffat County High School sports.
For one, it's not a CHSAA sanctioned sport.
For the other MCHS teams, a state championship appearance is usually the end-all goal.
In rodeo, the top four finishers advance to the national championships in Farmington, N.M.
"There are kids from all over the place (in the national finals)," Hegwer said. "You have kids from Alaska, Hawaii and even the provinces in Canada. It would be great to see some of our kids go this year."
Hegwer said to keep an eye on the progress of siblings Troy and Taylor Vernon, as well as junior Eric Fleming.
"Troy and Taylor have rodeo in their blood," she said. "They are both strong all-around competitors that should have strong seasons."
Fleming added bareback riding to his repertoire of events this winter, an addition that helped him earn the senior boys all-around saddle in the Little Britches Winter Rodeo season.
"Eric will definitely be one to watch this season," Hegwer said. "He added bareback, and he's done well with it. He's a senior, and he will help lead us this year."
Hegwer said the horses are getting "legged up," the girls are starting to work on their break-away skills, and the boys are beginning to practice tie-downs.
"We are excited the season is here," she said. "We're ready to rodeo."
John Vandelinder can be reached at 824-7031, ext. 211, or jvandelinder@craigdailypress.com