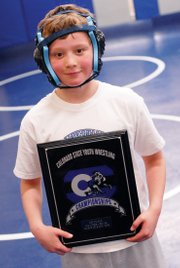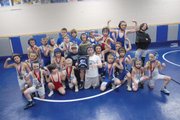 Craig — Entering the wrestling room in Moffat County High School, the sound of clanging medals draped around the necks of the more than 20 Bad Dogs wrestlers present at practice, drowns out the sounds one would expect to hear coming from the group of six- to 12-year-olds.
The wrestling season is done for Moffat County High School grapplers, but wrestling at the high school isn't quite finished.
The Bad Dogs youth wrestling team also calls the third-floor wrestling room at MCHS home.
And, like the high school team that competed in the 4A state championships two weeks ago in Denver, the Bad Dogs competed Saturday a few miles south of the Mile High City as well.
Deven Mosman was crowned state champion after compiling a 4-0 record.
He said he got nervous before his matches, but once he got started, the nerves disappeared.
"I just go get sweaty," he said. "And they go away."
The team competes in a variety of events throughout the year, and assistant coach Shane Hadley said without the support of parents and the community, the travel wouldn't be possible.
"We travel a lot," Hadley said. "We have so many great moms and dads that help us, and volunteer coaches that want to see these kids do well."
At an event Feb. 23 in Moab, Utah, the Bad Dogs claimed first in 10 of 14 events.
A week later in Olathe, 11 of 18 Bad Dogs claimed first.
And of the six wrestlers that competed in the state tourney, four placed along with Deven Mosman's title.
"These kids are dedicated," assistant coach Kelly Mosman said. "We are building some outstanding wrestlers here in Craig."
Kelly pointed to MCHS freshman Charlie Griffiths, who placed the highest of the Bulldog wrestlers at state two weeks ago.
"Look at Charlie Griffiths," he said. "He was part of this team just a few years ago, and look at him now."
Eight assistants were helping at practice Thursday night, and two high school wrestlers - Troy Vernon and Jesse Breslin - couldn't help peeking in to check on the future of the Bulldog wrestling program.
"We are getting them ready for what's about to come," Hadley said. "We get them some valuable mat experience. You could say we are a feeder program for the high school."
Kelly Mosman was a little less subdued.
"We are building champions here," he said. "We want to let people know that the Bad Dogs are coming."
The Bad Dogs soon will get their chance.
The Rocky Mountain Nationals are March 21 to 23 in Denver.
John Vandelinder can be reached at 824-7031, ext. 211, or jvandelinder@craigdailypress.com