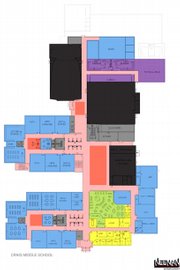 At a glance
New Craig middle school building
Estimated construction timeline: June 2008 through November 2009
• The new middle school building will be constructed where Craig Middle School currently stands.
• The building will be constructed around existing gym, auditorium and industrial arts facilities, which will remain intact.
• Four modular classrooms set up at the existing building's north end will house some seventh- and eighth-grade students during the 2008-09 school year.
• Students also will use parts of the existing building during the 2008-2009 school year.
Craig — With a set of plans in hand, a building and design company selected by the Moffat County School District intends to start moving forward with construction on a new middle school this summer.
The project is scheduled to break ground June 2, said Rick Meserve, The Neenan Company archistructor and senior project manager. He estimated the project would be completed November 2009.
Meserve acts as the project manager for the district's capital construction project. He presented floor plans for the new middle school to community members during a Wednesday lunch meeting.
The gathering served as the last step in the design-and-build company's attempt to gather public input on the new middle school's design.
"We really want the community and the district to tell us what their needs are," Meserve said. "No design is a good design without knowing what the needs are."
The plans Meserve unveiled to the public were created partly from feedback from current Craig Middle School staff and faculty. They showed the basic layout, or "footprint," of the proposed building and included elements from student common areas to existing CMS facilties that will be incorporated in the design.
Neenan will send a more detailed set of plans to the state for permit approval next month, Meserve said, adding that the state's response to such requests usually takes eight weeks.
The company can begin taking bids from local construction subcontractors once it gains the state's consent.
Dave DeRose, Citizens for Moffat County Schools co-chair, was one of more than 15 community members who sat in on the meeting at the Moffat County School District Administration Building.
The group campaigned on behalf of the district's $29.5 million bond issue that voters passed last fall.
The plans he saw matched the organization's vision for a new middle school, he said, adding, "I'm happy (CMS staff) are happy with the design."
Penny Southwick, a 25-year Craig resident and mother of six students in Moffat County schools, also attended the meeting.
"This area is growing," she said. "I really feel we need to have good schools - not only academic-wise, but (also) facility-wise."
Southwick currently works for the district's transportation department.
Construction traffic along Ninth Street, which runs south of the school, could prove problematic, she said, especially during the winter months.
Still, she has faith that the new building will prove effective.
"I think (the design) will work if everyone does what they're supposed to," she said.
Bridget Manley can be reached at 875-1795 or bmanley@craigdailypress.com