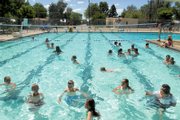 Eight-year-old Brooke Hahn stood at the top of the slide at the head of the lap pool at the Craig City Park pool Sunday.
She waved to her brother, plugged her nose and disappeared down the plastic tube.
Hahn appeared less than a second later, shooting out feet first, airborne, into the cool water.
"Did you see?" she asked, pulling herself from the water. "That was so much fun."
The ride down the slide was a first for Hahn in her third time at the pool this summer.
"It was kind of scary," she said as she pushed the wet hair from her face. "But, it was a lot of fun."
The temperature read 90 degrees on the sign at the corner of Sixth and Yampa avenues in front of the First National Bank of Colorado, but more than 200 Craig residents knew how to beat the heat.
They were at, and in, Craig's lone pool.
Heads bobbed up and down in the water.
Mothers, fathers, grandmothers, grandfathers and kids of all shapes and sizes splashed in the water Sunday.
Josh Worster was making waves for the first time this year at the pool.
The 8-year-old learned to swim two years ago
"I like the slide and the waves," he said. "I come to have fun when it's hot. It's my first time this year, but I'll be out here a lot."
The Craig City Park has two pools: the lap pool and the wave pool. But for those who worry about safety, there is no cause for concern.
The pool is equipped with at least 10 lifeguards every day, according to 2008 Moffat County High School graduate and part-time lifeguard, Claire Sorrentino.
"There are always six to eight lifeguards at the wave pool," Sorrentino said, "three at the lap pool, and there is always one inside for first-aid."
According to Sorrentino, the pools at Craig City Park have never had a drowning or fatality, and won't while she's on watch.
"We saved one (kid) this year," she said. "It's not like it was really bad. Normally, its just kids who go too deep when they go down the slide or fall off tubes and can't get back on. I get to play Baywatch, but it's for real. We all take pride in making sure nobody gets hurt while they are here.
"With this many lifeguards, we like to think we can see everything."
The whistle blows as Sorrentino finishes talking, but it wasn't because of danger.
Someone vomited in the wave pool, causing a 45-minute interruption while it was cleaned up.
"That is the stuff we have to worry about most," Sorrentino said. "That and, every now and then, we get frogs in the pool."
The wave pool delay moved most of those in attendance to the lap pool, where 9-year- old America Baca stood in the shallow end cradling her 1-year-old brother - Memito - in her arms.
"It's fun to come to he pool," she said. "We keep cool and do exercises, and Memito loves the water. We come all the time."
Jessie Cramer sat at the edge of the water, feet dangling in the pool, as she kept a keen eye on her daughter, Madysen.
"We've been here four times this week," Jessie said. "She keeps conning me into coming. She's a little tadpole."
Madysen learned to swim a year ago, and her mother said she's trying to make up for lost time.
"She doesn't even give me a choice," about coming to the pool, Jessie said. "She really loves the water. She's like a fish."
John Vandelinder can be reached at 875-1793 or jvandelinder@craigdailypress.com