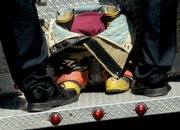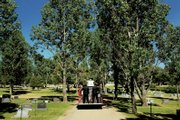 Craig — Silence - except the sound of softly playing music and muted conversation.
Then, footsteps walking in unison.
With eyes set straight ahead and posture erect, Craig Fire/Rescue members filed down the center aisle of First Congregational United Church of Christ on Saturday afternoon. A strip of black tape ran across the center of their badges pinned to their dark navy blue uniforms.
They had come to pay their last respects to a departed brother.
Richard Major Self Sr. had served the Craig Fire/Rescue for more than 20 years before retiring in 1980. He died May 22 after battling mesothelioma, a cancer caused by asbestos exposure.
As Self's funeral began, Engine 2 was parked outside, waiting.
The 1976 American LaFrance, equipped with a 50-foot ladder, was the vehicle that took Self on many of his calls during his tenure as a firefighter, said Bill Johnston, Craig Fire/Rescue chief.
On Saturday, Self would ride on the vehicle one last time.
The Last Ride is a tradition that fire departments across the nation have undertaken for about 270 years, Johnston said.
"We are honoring the firefighter for his time and dedication," he said.
According to the long-standing tradition, firefighters convey the remains of their brother or sister to his or her final resting place.
When a departed firefighter's family members offer their thanks to Johnston for carrying out the ceremony, his response is always the same, he said.
"There's no need to thank us," Johnston said. "This is our honor. It's one of the most honorable things we do."
Doug Willems, who has served with Craig Fire/Rescue for almost nine years, was one of eight firefighters who gave that honor to Self.
When the time comes, he said, he hopes to also have one final ride.
"This has been a big part of my life down here," he said. "This place means as much as my true family.
"This is a whole other family. This is a lot of what I am."
The roots bonding firefighters together lie in their shared experiences.
"Usually, when human beings perform work at events that human beings shouldn't normally even see, it creates a bond between those people that (is) so strong," Johnston said.
"There (are) only those people who know what you've been through," he said.
At Saturday's service, Self's family recalled the details of his life, both large and small.
He loved professional wrestling, peanut M&M's, Dick Tracy comics and was untiringly devoted to his country, community and family, his three children said.
"My dad was not blessed with the gift of gab," said Sheri Trujillo, one of Self's two daughters. "He was not one to dominate a conversation but always seemed content to listen."
Nonetheless, she said, when he did speak, his words were to the point.
"He would jump in to help anyone in need, and he would volunteer his services at a drop of a hat," Trujillo said.
Without his family's testimony, Self's volunteer record in Craig would speak for itself.
He put in about 250 hours of work on a Habitat for Humanity house located at 745 Yampa Ave. and also volunteered at the Interfaith Food Bank.
In April 2007, Self was named Volunteer of the Year at a luncheon sponsored by the City of Craig, Moffat County and Moffat County United Way.
After the service, Teresa Schaller, Self's youngest child, recalled her father's work as a firefighter.
"I don't think as kids we were worried or anything" when Self was called out to fight fires, she said. "You just don't think about those kinds of things."
That response changed one day when Self was called to put out a fire at a hardware store once located on Yampa Avenue. The fire produced an explosion that blew Self across the street, Schaller said.
"I think that was the first time that I realized that what he was doing was doing was kind of dangerous stuff," she said.
Self also drove an ambulance and once responded to a call in which one of his daughter's former boyfriends was killed in a shooting death.
"That was hard," Schaller said, "because a lot of times he knew the people he was bringing in. When there was a tragedy like that, it was doubly hard."
True to his personality, Self didn't talk much about the scenes he witnessed on call, she said.
"He would just go out and do it again," she said.
The challenges Self faced haven't changed since he retired from the fire department more than 25 years ago.
Living in a small community, firefighters still can expect to respond to calls involving friends and loved ones, firefighter Kamisha Siminoe said.
"You're there on somebody's worst day," she said. "We see some of the most horrible things."
The scenes firefighters and other crisis responders witness are difficult for members outside of the force to comprehend, she said.
"It's hard, unless you've been there," Siminoe said. "It's hard to understand what we go through at times."
On Saturday, Siminoe took the wheel of Engine 1, the second fire truck in the four-vehicle procession that accompanied Self's remains to Craig Cemetery. The vehicles rumbled out of the Congregational Church parking lot with lights flashing.
"For me, it's an honor to participate in something like this," Siminoe said. "It signifies the brothers and sisters that have gone before us, whether (they) lived a full life or died in the line of duty."
The procession ended at a plot of land beneath a tree in full leaf in Craig Cemetery. As Congregational Church Pastor Bob Woods gave the final prayer, firefighters stood at attention nearby.
It was their way of saying goodbye to a brother.