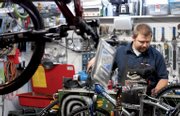 Craig — If not for the sound of a wrench on metal, nobody would know they were there.
Buried behind more than 100 new bikes and an ever-growing number of bikes under repair, a number currently sitting at more than 50, is Aaron Ruybalid, owner of J&R Cyclery.
Part the sea of spokes and in the far corner sits his wife, Anna, and the couple's son, Titus.
Aaron continues his "wrenching" as he tells of his life in bikes.
"There was no bike store back where I came from," he said "I would always work on them. You know, then you had to fix your own or it won't roll."
Aaron moved to Craig from Olathe in 1987, and eventually, he found his way into the town's lone bike shop.
J&R Cyclery, then owned by Jerry Downing, became Aaron's second home.
"He kind of knew I could out-wrench him, so he called me up and brought me on."
When Downing was looking to get out of the business, his first choice as a successor was Aaron.
"He said 'I'm looking to get out of it, and if you can't buy it, I'm just going to shut it down,"' Aaron said.
So, Aaron bought it.
"We had to jump through quite a few hoops to buy it," he said, laughing.
September will mark the fourth year of business at J&R under Anna and Aaron, and the couple admits to learning a lot.
"We, well he, has a really heavy workload," Anna chipped in from the back. "He's never at home. More bikes come in each day than go out."
The sign on the front door says closed Sunday and Monday, but not really.
Those two days are set aside as "catch up days."
"I'm here all the time," Aaron said. "Including the days we are closed."
Aaron said it doesn't take a college education to fix a bike, unless you want it done right.
He graduated from Barnett Bicycle Institute in Colorado Springs, earning the title of Wheel master.
"There is definitely an art to building wheels," Aaron said. "It's not like fixing brakes or a chain. There is a lot to it."
Aaron has handpicked each new bike J&R sells.
Sure, there are Trek bikes, Haro bikes and Diamondbacks, but it's not the name brand Aaron looks for.
It's the parts.
"I go for the best components," he said. "A bike that is $500 can have the same parts as another that is $300. Here, you get the best bike and parts for your money."
The most common damage to a bike Aaron and Anna see is a bike that has been run over by a car, and girls bikes "that break because their brothers go jumping them off hills."
But, regardless of the extent of the damage, Aaron will take a look at it.
"My passion for bikes is even more now," Aaron said. "Just my priorities have changed."
The couple welcomed a son - Titus - to the family six months ago, putting bike repair at a distant second on their list of priorities.
"If I wasn't doing this," Aaron says as he "wrenches" a little more, "I would be on my own island in the Bahamas, watching my son grow."
Until then, he'll be working inside, so others can have fun outside.