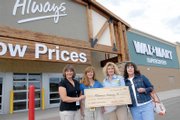 The Memorial Hospital Foundation was awarded a $2,500 donation from the Craig Wal-Mart store.
Wal-Mart's Corporate Giving and Foundation's mission is to "strive to improve the quality of life for our associates, customers and communities through financial contributions."
Wal-Mart's community involvement program is based on the philosophy of operating globally and giving back locally.
"The Foundation is so excited to have the support of yet another community partner," TMH Foundation Board Chair Vicki Gutierrez said. "Every donation like this helps us to be one step closer to realizing our vision of a new hospital."
The grant was submitted through local associates, Polly Kennedy, HR manager, and Lou Groff, store manager.
"Wal-Mart is happy to contribute to the new hospital," Kennedy said.
"Wal-Mart wants to assist in community projects, and we are happy we can contribute locally," Groff said.
"Receiving this funding is an incredible statement about the kind of support that is behind this critical replacement hospital project," TMH chief executive officer George Rohrich said. "Providing first-class health care is a priority for TMH."
To date, The Memorial Hospital Foundation has $908,000 in investments. All of its funding is from private donations pledged during the 2005 capital campaign and current contributions.
"The support of this community has been tremendous in reaching our goals," Foundation Coordinator Eva Peroulis said. "We appreciate Wal-Mart's community-involvement efforts."
If anyone would like to make a donation and have his or her name printed on the "Donor Recognition Wall" of the new hospital, call Peroulis at 826-2424.