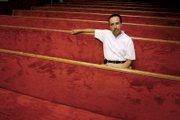 Craig — Fred Charles and other members of a five-person pastoral search committee at Calvary Baptist Church aren't settling for just anyone.
The committee formed after the church's former pastor, Rod Compton, left Craig in January to lead another congregation in Albuquerque, N.M. Since then, they've gone through more than 60 applications from pastors interested in leading the now-shepherdless flock.
"We go over (those) resumes with a fine-tooth comb," said Charles, who has been a deacon at the church for about 32 years.
The group has yet to find someone who fits their criteria.
This committee isn't looking for someone to only fill a pulpit on Sundays.
"We want a pastor, rather than just a preacher," Charles said.
A pastor, he added, who congregants could invite to anything from holiday dinners to camping trips.
"We want someone to come in and love us," he said, "and we'll love him."
Although nearly five months have passed since Compton left, Charles said he hasn't lost hope.
"We've been through this quite a few times - at least, I have," he said.
Occasionally searching for a new leader is a normal part of church life for some congregations. On average, Charles said, Southern Baptist pastors remain in a church for two or three years before moving on.
"In the Lord's work, he moves people around," he said.
The committee began looking for Compton's replacement about four months ago using a tool unused in previous pastoral searches: The Internet.
A Southern Baptist Web site allowed the committee to solicit pastors from all over the world, Charles said.
Later, the group took a more traditional route and alerted three Southern Baptist seminaries about its opening in the hopes of attracting graduates looking to pastor their first congregation.
Other church leaders are pitching in to fill the empty pulpit while the group continues its search.
Arturo Villa, pastor of the church's Spanish-speaking congregation, is one of them.
Calvary Baptist's Spanish- and English-speaking populations share the same building. And, since Compton left, they've also occasionally shared the same pastor.
Villa said he's preached for the church without a pastor four times this year and plans to give another sermon in the near future.
"They are lovely people," Villa said. "I love this congregation because they have the love of Jesus Christ."
From what he can see, Villa thinks the church is faring well.
"Right now, they're doing pretty good by themselves," he said.
Mike McCarthy, High County Baptist Association missions director, agreed.
Calvary Baptist is a member of the Baptist Association, a regional division of the Colorado Baptist General Convention. Both state and regional organizations have sent about seven pastors from member churches across the state to preach at the local church since Compton left, McCarthy said.
In his view, going solo after a pastor leaves can be difficult for some church members.
"They really look toward the pastor : to provide vision, leadership - to provide the focal point for the organization," he said.
Yet, Calvary Baptist has a "strong core," he said, which ranges between 60 to 80 people who attend the church regularly and fill leadership roles there.
"I think the leadership at Calvary is strong," McCarthy said.