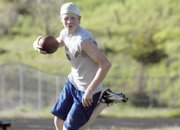 Craig — May 17.
The final day of the season for the Moffat County High School track team.
And, the opening day of varsity football practice.
Not a day had passed after the summer sports season and the MCHS football team was on the practice field looking to redeem last year's 3-7 record.
The team has been hard at work for a few weeks now, hitting the weight room, studying the playbook and competing in some seven-on-seven drills to stay fresh.
It's about to get tougher.
The Bulldogs summer football camp begins Wednesday at the University of Wyoming in Laramie, Wyo.
MCHS will join the more than 18 schools participating in drills designed by college coaches to enhance skills for the regular season.
This year's camp, head coach Kip Hafey said, will see its highest turnout since he took over seven years ago.
For good reason.
Hafey invited freshmen for the first time.
"We have 41 kids coming out," he said. "Only three of them are seniors, so we have a lot of underclassmen who are going to have to step up and play varsity this year."
Hafey said that's what the camp is all about.
Finding some "diamonds in the rough," he said.
"Hopefully, we get some kids that pop up and we say, 'whoa, that kid has really improved,' and 'we're going to have to take a deeper look at him' kind of thing."
Junior Matt Linsacum is penciled in at the quarterback position and senior Lyle Schaffner at the fullback spot.
Other than those two positions, Hafey said the rest of the upcoming season's roster is up in the air.
"We are going to move kids around a lot and see where they fit best," he said. "There's a lot that's open this year. There's not a lot of set positions, that's for sure."
The 41 Bulldogs competing Wednesday to Saturday will have plenty of opportunities to impress Hafey and his staff.
Hafey said the team will practice from 8 a.m. to 8 p.m. each day and will be broken into sections: individual by team, versus (live scrimmages), 7-on-7 (no linemen), pass rush (linemen only) and individual by position.
Of the positions up for grabs, Hafey said finding a backup quarterback is "critical."
"Honestly, our No. 2 quarterback, we don't know yet," he said. "We are going to have to find someone and turn him in to a quarterback. That's one of the things we have to find at this camp, is someone who can step in and play that position if we need them."
What is set this season is the playbook.
Hafey said the team will run a lot of misdirection in its offense this year, something that could amount to confusion for an offensive line short on experience.
"We are going to try to confuse the defense," Hafey said. "We don't have the team speed we did last year, so what we're going to try to do is use a lot of fakes on offense and if everything works out like we want, we will confuse defenses.
"We're not going to have one senior on the offensive line, so we're not going to have a lot of size and experience. We're going to have to focus on good fakes and getting good angles."
Hafey said he is set with what he wants the team to do, how he wants them to act and what plays he expects them to be able to execute.
"We've shown the kids what we are doing and they are excited," he said. "Now, we just have to go out and learn it. That's what camp is all about."
John Vandelinder can be reached at 875-1793, or jvandelinder@craigdailypress.com