Document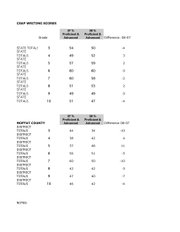 Document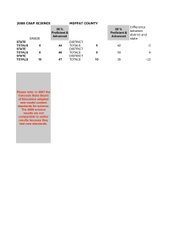 Document
Document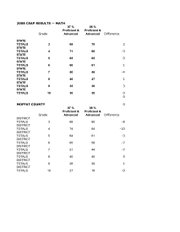 By the numbers
Moffat County School District students who scored proficient or advanced on 2008 Colorado Student Assessment Program tests
Writing
• Third grade: 34 percent
• Fourth grade: 42 percent
• Fifth grade: 48 percent
• Sixth grade: 51 percent
• Seventh grade: 50 percent
• Eighth grade: 42 percent
• Ninth grade: 40 percent
• 10th grade: 42 percent
Math
• Third grade: 60 percent
• Fourth grade: 64 percent
• Fifth grade: 61 percent
• Sixth grade: 58 percent
• Seventh grade: 44 percent
• Eight grade: 45 percent
• Ninth grade: 29 percent
• 10th grade: 18 percent
Reading
• Third grade: 63 percent
• Fourth grade: 64 percent
• Fifth grade: 70 percent
• Sixth grade: 76 percent
• Seventh grade: 61 percent
• Eighth grade: 69 percent
• Ninth grade: 61 percent
• 10th grade: 60 percent
Science
• Fifth grade: 42 percent
• Eighth grade: 50 percent
• 10th grade: 35 percent
Craig — Results from a statewide standardized test students took this spring revealed a blend of good and bad news, Moffat County School District administrators said.
On Tuesday, the Colorado Department of Education released results from the 2007-08 Colorado Student Assessment Program tests. A news release from the CDE reported the results painted a "mixed picture" of students' academic performance on the test.
Moffat County School District Superintendent Pete Bergmann agreed.
"Our preliminary evaluation (of 2008 CSAP results) does definitely show mixed results," he said. "As is always the case, there are pockets of excellence and causes for concern."
Strong, weak areas
Results indicate a majority of School District students are reading at or above grade level. At the same time, however, test scores indicate that students in higher grades are noticeably lagging in math skills, some grades are behind state averages in science, and all grades fall short of state standards in writing.
In the past, the school district's math and reading scores have remained close to the state averages, Bergmann said.
This year, however, more grade levels dipped below state norms, he said.
CSAP measures how many students are meeting state content standards in reading, writing, math and, in some grades, science.
Across the school district, a majority of students achieved proficient or advanced status on the reading portion of the test. Sixth grade students earned the highest scores, with 76 percent of pupils' test scores indicating they read at or above grade level.
"Reading, year over year, continues to be our district strength," Assistant Superintendent Christine Villard said.
"We have developed the most comprehensive intervention strategies and programming in this content area," she said, which include hiring in-school literacy coaches.
While reading CSAP scores remained high across all grades tested, other subject tests showed a different trend, both at state and local levels.
On average, math CSAP scores started strong in earlier grades, only to decline at the middle- and high-school level.
A majority of third- through sixth-graders at state levels scored proficient or advanced on the test. State scores dropped, however, in seventh grade and continued to decline.
State scores bottomed out with 30 percent of 10th graders across the state earning a proficient or advanced score on the test.
A similar trend occurred in the school district, but on a more noticeable scale. Students' scores began dropping below proficiency levels in sixth grade and continued slanting downward through 10th grade.
Last year, 18 percent of Moffat County High School sophomores scored proficient or advanced on the math CSAP test, placing them 12 percentage points behind the state average for their grade.
"In math, we've shown the greatest growth in percent proficient over the last several years," Villard said. "We did have a down year in math this year, but we feel confident that we can get back on track."
In the writing portion of the CSAP test, a majority of school district students scored below proficiency levels in earlier grades. Scores improved in sixth and seventh grades before dipping again at the high school level.
All grades tested on the writing CSAP scored below state averages and, in most grade levels, a majority of school district students' scores indicated they were writing below grade level.
"Our first reaction was these are not good," Bergmann said. "When we saw that we didn't have any grade levels that outperformed state averages (in) the proficiency category and we were significantly underrepresented in the advanced range, our reaction was that this is our greatest area of need in the district."
In science, the school district's fifth- and 10th-graders scored below state averages and proficiency levels.
However, 50 percent of school district eighth graders earned proficient or advanced scores on the test, placing them 4 points above the state average.
Next steps
Improving students' writing skills and providing challenging curriculum for academically advanced students in all content areas are two main goals school district administrators will try to meet this year, Villard said.
The latter goal is a response to this year's CSAP results, which showed that the number of district students scoring advanced on the test lagged behind state averages, Villard said.
School district administrators will also examine the CSAP data further with school principals when they return to work next week, Bergmann said, adding that they would examine possible causes and, where necessary, solutions for this year's CSAP results.
Comparing this year's CSAP results to those of the same students last year yielded good news, Villard said.
Among those improvements was a 12-point writing score increase between this year's Sunset Elementary fourth-grade class and the students' scores as third graders last year, Villard said.
However, CSAP scores also indicate the district has room for improvement, Bergmann said.
"We are not happy," Bergmann said. "I am not happy."
The next task facing the school district, he said, is examining the CSAP scores further to see where it can improve.
"We have no excuse," he said. "We can do better.
"We will work to increase student performance."