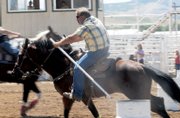 O-Mok-See: A term used by the Blackfeet Indian Tribe meaning "riding big." Derived from the term oh-mak-see pass-kan meaning "riding big dance."
It's boys and girls, men and women "riding big" on horses, but it's not a rodeo.
Bull riding, calf roping and barrel racing have been replaced with figure eight stake races, the barrel and stake event and the polo turn.
The 43rd annual National Championship O-Mok-See, hosted by the National Saddle Clubs Association, kicked off its show in Craig on Sunday.
Included are 170 participants from nine surrounding states racing down three, 30-foot lanes on horseback.
"We don't ride to compete against one another," Deana Reh, NSCA Secretary/Treasurer said. "We ride for records. We've broken five of them already."
A national event that began in 1965 in Helena, Mont., has spread throughout the Northern United States making its second stop in the Moffat County Fairgrounds.
But, unlike the 2005 O-Mok-See, this year's event was by design.
"We were scheduled for Vernal the last time we actually came to Craig," Reh said. "A horse virus hit Utah, so we came down the highway, and boy are we happy we did. Craig is a town that really appreciates what we do."
More than 100 spectators caught the festivities Tuesday, not a bad number when considering many rodeo fans from town are in Pueblo for the National Little Britches Rodeo Championships that begin Thursday.
"We only have two competitors from Craig," Reh said. "Hopefully, we will get some more to come out before we are finished."
Interested riders still can sign up to compete for $4 per event.
Competitors range in age from 5- to 80-years-old, and Reh said new participants need not worry.
"This isn't a rodeo," she said. "We have people of all ages and experience levels that come out here to have fun. It's all about having fun in a friendly environment.
"We had a couple that met during this event 17 years ago and ended up getting married."
Bentley, Kan., resident Casey Kohr sat atop his horse, Ranger, waiting to compete in the polo turn event.
Kohr is participating in his fifth NSCA championship.
"I like the two barrel flag (event) the best," the 10-year old Kohr said. "You get to go fast, and I'm all about going fast."
Kohr isn't alone.
Of the several riders present Thursday, speed seemed to be at the front of their minds.
Mike Peterson, also from Bentley, Kan., said the event is good for kids and family to come together on common ground.
Peterson, 46, is competing in his 16th NSCA championship, while his horse, Stud, is in his first.
"My favorite event is the polo turn," he said. "It's a nice, fast event. Fast is good."
The event will culminate with an awards banquet Friday evening, and Reh encourages local residents to come out and catch a glimpse of the action.
"There are a lot of different riders from a lot of different places," she said. "It's good, clean family fun with lots of excitement."
John Vandelinder can be reached at 875-1793 or jvandelinder@craigdailypress.com