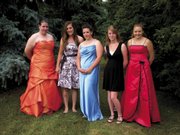 "4-H, The Key To Your Future."
That was the theme for this year's State 4-H Convention, hosted on the Colorado State University campus in Fort Collins from June 23 to 27.
More than 400 4-H members from around the state attended the conference this year, and there were plenty of activities to keep them busy. Workshops, election of a state officer team, livestock judging, banquets, speakers, award ceremonies and dances were just some of the activities.
Moffat County did not send a livestock judging team this year, but five 4-H members attended. They were: April Etheridge, Bryanne Runnion, Miranda Blomquist, senator Karissa Maneotis and substitute senator Ashley Summers. Accompanying the girls was Alisa Comstock, 4-H Youth Development Agent.
Comstock explained that 4-H members must be 14 years old and in "good standing" to be eligible to attend the conference. Senators are elected by the 4-H Council and attend the conference to help elect a state officer team. This year senator Karissa Maneotis was eligible to attend the conference, but the other Moffat County senator wasn't age 14. So, Ashley Summers was elected substitute senator for the conference.
The Moffat County 4-H Council paid $200 towards the expenses for Karissa Maneotis to attend the conference since she was senator. The Moffat County 4-H Foundation paid the $200 for the other four girls. Each girl paid $60 of her own money to cover food, snacks and other expenses.
"The conference is well-supported by the Moffat County 4-H Foundation, and their help is appreciated very much," Comstock said.
The delegates stayed at the new Academic Village Honors Building on the CSU campus.
The senators attending conference have a similar responsibility to their 4-H members that U.S. senators have to their citizens. Maneotis, who also is secretary of District 11 (Moffat, Rio Blanco, Eagle and Garfield counties), explained that during the conference the senators hold meetings with the members from their counties in order to get their input as to who should be elected to office. The meetings begin at the district level and finally are held at the county level. Senators vote for candidates who get the majority vote of their delegation.
During conference, delegates (including senators) attend workshops. Comstock said the workshop list was very long and included intriguing titles such as "Investing 101" and "Dust 'em and Bust 'em: Crime Scene Investigation."
Leadership workshops, such as those about parliamentary procedure, were popular with the Moffat County delegates.
Bryanne Runnion said she went to 4-H Conference because "I want to work on leadership skills and participate in the 4-H program as much as possible."
Miranda Blomquist chose "The Winning Parli-Pro Method: 4-H 101" as one of her workshops. Participants of the workshop learned how to run meetings, help them go more smoothly and not waste a lot of time."
"We go to workshops that help with leadership and community service and bring back skills to Moffat County and share with other 4-H members." said Maneotis.
Educational goals were on the delegates' minds, too. Comstock said some workshops dealt with interview techniques and how to include 4-H activities in resumes. Some chose a CSU Experience Workshop to tour the buildings on the campus.
"I'm an aspiring veterinarian," said Runnion, "and I've been looking at colleges. Going to the conference made me decide I wanted to go to CSU."
Runnion also summed up the time spent in the workshops. "The workshops were very, very good. They showed us absolutely as much as possible."
One night delegates dressed up in formal wear for a banquet, followed by an awards ceremony. Lyndi Wellaman, of Moffat County, who just graduated from high school, was recognized for receiving a state scholarship.
For Moffat County delegates, meeting people was one of the highlights of the conference.
"We met life-long friends who share common interests with us," Maneotis said.
Blomquist remarked , "We met a lot of new people and had a lot of fun."
Runnion agreed. "I met a lot of new, fun people by going to conference - really great people."
And, April Etheridge has a message for Moffat County 4-H members. "Conference is a lot of fun," she said. "More Moffat County kids should attend because they learn a lot."