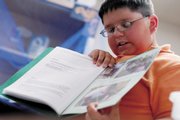 Ladybug facts
• There are nearly 5,000 different kinds of ladybugs.
• Ladybugs beat their wings about 85 times per second.
• Female ladybugs are larger than their male counterparts.
• Ladybugs cannot fly if the temperature drops below 55 degrees.
Source: Marlee Chacon, 13, 4-H Entomology Project Group member
Mark Nava, 9, stands in front of a small circle of his peers in the Craig branch of the Moffat County Libraries.
As he describes the life cycle of a mosquito, from egg to larva to winged insect, his speech is low and serious.
Nava was one of three members of the 4-H Entomology Project Club who captured, collected and studied local insects this summer.
On Wednesday, they shared their findings with one another and their group leader, Kirsten Andrew.
"This is a project anyone can do," she said. "You don't have to have a farm or a ranch.
"It's one of 4-H's diversified projects that even urban dwellers can do very successfully."
Giving public presentations was the first of three steps that marked the end of group members' projects, which they began in early May.
Mark and two other members in the group - Isaac Chacon, 10, and his sister, Marlee Chacon, 13 - each started their projects by honing in on an insect of their choice.
"It's kind of a self-guided project in that way," Andrew said. "They can focus on their interests."
While Nava chose to study mosquitoes, Isaac chose grasshoppers and Marlee selected ladybugs.
They began building their insect collections with the aid of a killing jar, or a lidded glass container lined at the bottom with cotton soaked in nail polish remover. The device gives the insects a quick end, Andrew said, and preserves the body for display in the member's bug boxes.
Timing is the trick to keeping an insect's fragile remains intact.
"You want to pin it as soon as possible," Mark said, "not when it's all crunchy-hard."
Mark, Marlee and Isaac were required to collect a pre-set number of insects. In Marlee's case, that meant capturing and pinning 10 ladybugs of six different orders, or varieties.
Members can enter between 35 and 75 insects at this year's Moffat County Fair, Andrew said, which is scheduled to take place from August 2 to 9. Winners will take their insect collections to state fair.
Club members develop several skills during the project, Andrew said, including public speaking.
Andrew, a second-year leader for the club, said she discovered a few facts herself.
"I think I've been in awe of the sheer number of insects we have everywhere in our world," she said. "I thought we live in such a cold climate (that) we wouldn't have as many (insects), but we do have a large variety."