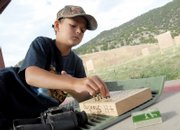 Past Event
Tuesday, July 29, 2008, 8 a.m.
Moffat County Fairgrounds, 640 E. Victory Way, Craig
Not available
Craig — Natasha Sloan, 13, carried a solid wooden target backer over the dusty soil at Bears Ears Shooting Range on Thursday evening.
The blank wooden faces of the target backers, which looked like miniature empty billboards, soon were filled with white pages bearing black circles.
Thursday offered Sloan and other members of the 4-H Sharp Shooters, a .22 rifle club, one final practice before competition began in earnest.
An 8 a.m. match Saturday at Bears Ears Shooting Range will give group members a final attempt to reach goals they set for themselves during the year. The Sharp Shooters match is the first in a cascade of similar culminating events for other local 4-H groups during the weeks leading up to the Moffat County Fair, which is scheduled to take place August 2 to 9.
On July 29, Sharp Shooters will face one more round of testing when they submit their general projects for judging during the 4-H completion day. Members can choose to enter either a tool they've built themselves for use on the shooting range or a poster about some aspect of the shooting sport, said Jody Lee, Sharp Shooter head coach.
Echoing gunfire retorts soon filled the air as Sloan and other members of the Sharp Shooters took aim at the small black targets.
Thursday's scene wasn't a new experience for Sloan.
"I kind of grew up around shooting," she said. "I've always shot."
"It's something I like to do," she said, adding that she began target shooting when she was about 6 years old.
Last year, Sloan and several other Sharp Shooters qualified to go to the state 4-H shooting competition.
As Sloan lugs a target backer out of a small barn behind the shooting range, her reflections about the state event are succinct.
"It was hot," she said, adding that the event usually takes place in Pueblo.
Her performance Saturday will determine whether she returns to state this year.
The top four scoring members in each of the four classes - hunt, scope, four-position target and three-position international - will move on to the state 4-H shooting competition, accompanied by two alternates.
Safety takes precedence at the group, Lee said, adding that the season begins with a series of four or five safety lessons before group members take to the shooting range.
"Our number-one goal is to teach them to safely handle a firearm and the responsibility it takes to be able to do that," Lee said.
Twenty-eight members ranging in age from 8 to 16 make up the Sharp Shooters, Lee said, which is one of three 4-H shooting sports clubs.
Nearby, the Sliver Slingers, a 4-H archery club co-led by Shawn Polly and his wife, Sarah, were taking aim.
A total of 12 members - most of whom either are related to or live near the Pollys - make up the inaugural team in the club's first year. Like the Sharp Shooters, Sliver Slingers must pass thorough safety lessons before taking up their weapons.
Shawn said he was pleased by the turnout in the group's first year.
"It's been a lot of fun," Shawn said. "They're a good group of kids."