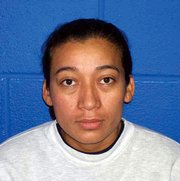 Steamboat Springs — District Court Judge Michael O'Hara could make rulings today determining what, if any, evidence will be excluded from Luz Cisneros' upcoming murder trial, as the case's motions hearing continues at the Routt County Justice Center.
Cisneros' public defenders, Sheryl Uhlmann and Emily Wickham, are seeking to suppress statements made to law enforcement on the day of her arrest, along with evidence and information acquired from searches of her residence. O'Hara's rulings may be delayed because of the unavailability of several witnesses, whose testimonies have been rescheduled for Aug. 18.
Several Steamboat Springs police officers testified Thursday, as did a crime scene investigator from the Colorado Bureau of Investigation and an interpreter, in an effort to reconstruct the events of Sept. 6, 2007 - from the moment officers arrived on scene until Cisneros was booked into Routt County Jail.
Cisneros, 34, is due to stand trial in September in Routt County District Court, in connection with the Sept. 6, 2007, death of her daughter, Brianna Simon, at their Walton Pond apartment. Cisneros allegedly killed her young daughter by cutting her neck with a kitchen knife, and injured herself in the same manner in a failed suicide attempt.
Cisneros pleaded not guilty to first-degree murder March 13, and she could face life in prison or the death penalty if convicted. She has remained in custody at Routt County Jail and the Colorado Mental Health Institute in Pueblo since the Sept. 6 arrest. No bail was set in her case.
Cisneros was emotional throughout Thursday's proceedings and participated with the help of interpreters.
The defense has moved to suppress all statements made by Cisneros at the scene, in the ambulance and at Yampa Valley Medical Center - where she underwent surgery for her injury - and during her interrogation at the Steamboat Springs Police Department, as well as all evidence derived from those statements. Her public defenders are arguing that her mental, emotional and physical state rendered her statements involuntary and made her incapable of giving consent to search her residence.
Defense motions also seek to suppress evidence because Cisneros, a legal resident alien who holds Mexican citizenship, was not notified about her right to consular notification and access until the end of her interrogation, though O'Hara indicated Thursday he is disinclined to suppress information on those grounds.
Prosecutors Elizabeth Oldham and Carl Stahl played audio recordings of the 911 call received from Brianna's father, Isaias Simon, as well as several hours of tape from Cisneros' interrogation at the Steamboat Springs Police Department.
In the recording, Cisneros described lying down with her daughter to die on the day in question, believing the child's father didn't care about them anymore. She also continually made suicidal statements, telling investigators she had promised her daughter they would always be together.
"I don't want to live," Cisneros told police through an interpreter, in the recording. "I need you to reunite me with my daughter."
The motions hearing continues at 8:30 a.m. today in Routt County District Court. Cisneros' trial is set to begin on Sept. 8, and is scheduled for six days.