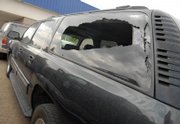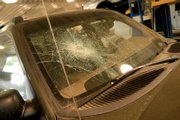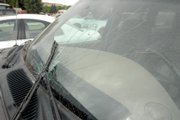 How to help
If you have information, CrimeStoppers is offering up to a $1,000 reward for any information leading to an arrest and conviction in the case of two acts of vandalism at McDonald's and Craig Ford/Mercury, both on Victory Way. Anyone with information may call CrimeStoppers at 824-3535, and callers may remain anonymous.
Craig — Senseless.
Sad.
Something has to be done.
Local business representatives and Craig Police Department officials all said the same things following two acts of vandalism Sunday morning.
"We all like to think these things don't happen in Craig," McDonald's Store Manager Tina Eckhoff said. "Until it does."
At 2:22 a.m. Sunday, someone or a group of people ransacked the McDonald's property on Victory Way, turning over wheelbarrows, knocking over trashcans and eventually throwing a large rock through the drive-through window, which also broke a cash register inside.
Another case law enforcement believe is a related crime happened shortly thereafter. About seven vehicles at Craig Ford/Mercury had windshields and various windows broken out and wipers torn off.
Police estimates put damage caused at both businesses Sunday morning at about $4,000.
CrimeStoppers is offering up to a $1,000 reward for any information leading to an arrest and conviction in the case.
Law enforcement encourages anyone with information to call CrimeStoppers at 824-3535. Callers may remain anonymous.
"This is probably the most aggressive (attack) that we've seen," Craig Ford Salesman Jeff Corriveau said.
But not the only one, he added.
"We have been repeatedly hit with vandalism for years," Corriveau said. "We've had antennas torn off, repeated acts of people keying new and used cars off our lots."
He estimated the car dealership has had in the neighborhood of $100,000 in damages caused by vandalism in the past five years.
When someone keys a vehicle from front to back, Corriveau said, Craig Ford has to repaint its entire side, which can cost between $2,000 and $3,000 each time.
Police Department Sgt. John Forgay said vandalism is an issue every city deals with, and Craig is no different.
"It's always a problem, whether it be the graffiti or other things," he said. "That's one of the constant things that tends to happen every week."
From July 11 to 15, the Police Department responded to six reports of vandalism and one report of property damage, in addition to five reports of theft.
Forgay said he and other officers have no evidence that suggests other acts of vandalism around town are related beyond the incidents at McDonald's and Craig Ford.
Right now, they mostly appear random, Forgay said.
Vandalism can be a difficult crime to investigate, he said. Often, there is no physical evidence to follow and crimes might not be reported until hours after they happen.
"If we have two officers on duty, or four officers on duty, it's a matter of being in the right place at the right time," Forgay said.
He added the department plans to increase its bicycle patrols, which should help law enforcement patrol the city without being spotted as easily.
Vandals will see a squad car coming from a ways away, Forgay said.
The police sergeant didn't know exactly how to characterize the continued acts of vandalism in Craig.
"Unfortunately, it's just senseless acts on the part of those involved," Forgay said. "It's a part of the non-thinking, non-caring element we have in society."
Collin Smith can be reached at 875-1794
or cesmith@craigdailypress.com