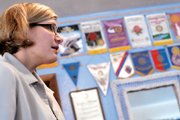 Next appearance
Elizabeth Oldham, assistant district attorney for the 14th Judicial District and Republican candidate for district attorney, plans to next appear in Craig at the Republican Central Committee meeting at 5:30 p.m. July 23 at the Craig Fire/Rescue station at 419 Yampa Ave. Oldham will be one of several Republican candidates seeking office in the November election present at the meeting. The meeting is open to the public, but space is limited.
When Elizabeth Oldham appeared at the Craig Rotary Club meeting Tuesday, members were not gun-shy about asking their questions.
Oldham, 36, is the assistant district attorney for the 14th Judicial District and Republican candidate for district attorney in the November election.
She works out of Grand Lake, and said she wouldn't be able to relocate if she were elected, but she would make a point to have set days each week when she would travel to Steamboat Springs and Craig.
Oldham is running against Tammy Stewart, 44, who lives in Steamboat and works there out of the Law Offices of Tammy L. Stewart, as well as her work as assistant Moffat County attorney.
Oldham first spoke briefly at the Rotary Club meeting about her three primary directives for the office, should she be elected.
First: help fight methamphetamine networks.
"It concerns me because meth is a terrible drug," Oldham said. "It destroys families; it destroys communities."
Oldham, however, said she does not want to "bring the hammer down" on people that made an error in judgment.
"I understand the difference between a good person who makes a mistake and has to be held accountable and a person who is a danger to our community," she said. "That is how I approach drug cases."
Oldham's second directive: cracking down on domestic violence.
"I think we should be concerned with family violence," she said. "When there's violence in the home, that is something the children see and that just continues the cycle."
Prosecuting those cases "would take a priority with my administration," Oldham said.
Third: public outreach.
"It does seem, in the past few years, there has been a disconnect between the public and the District Attorney's Office," Oldham said.
She proposed establishing a public advisory board, a group of residents that would convene with District Attorney's Office prosecutors and other officials.
The board would ensure the district attorney would "simply be held accountable to the public," Oldham said.
"Sometimes, the public has questions why we prosecuted a case a certain way," she said. "This way, we can come to the public and say this is why we did it this way and explain.
"We are public servants as prosecutors."
Rotary members were ready with their own questions after Oldham's presentation.
Neil Folks, chairman of the Communities Overcoming Meth Abuse spiritual outreach program and a member of the group's board of directors, asked when those in power would start addressing the causes of drug abuse and not only the crimes.
"It seems like we have a systemic problem in the whole community," Folks said. "We could build all the fences and keep everybody out, but people would still use everything they have under the kitchen sink" to manufacture drugs.
Oldham said she could not allay Folks' fears but understood his point.
"Honestly, I don't have an answer to that," she said. "But, you're right. We can't eradicate the problem until we address that issue" of why people choose to use drugs.
One series of questions didn't relate to Oldham's presentation points.
Cole White, Northwest Colorado Visiting Nurse Association director of operations, and Gene Bilodeau, Colorado Northwestern Community College Craig campus dean, asked Oldham about her stance on prosecuting illegal immigrants.
"I do feel I have to treat people fairly," Oldham said. "To me, that means treating people relatively the same," regardless of their citizenship status.
It is at the discretion of federal and state law enforcement whether to hold someone on immigration charges, she added.
Similarly, Colorado district attorneys do not have the authority to prosecute immigration offenses, Oldham said.
Bilodeau said he understood her professional position but asked what her personal thoughts are regarding illegal immigration.
"The best possible scenario is that people are documented and we know they are paying taxes and everything," Oldham said. "Also, we should appreciate there are some issues in Mexico with there not being enough employment.
"I think (immigrants) should be law-abiding, they should be here legally, and if not, they should be prosecuted."
White raised one other issue before the Rotary Club meeting adjourned.
"Sometimes, people think the (District Attorney's Office) is a little overzealous when it shouldn't be and not hard enough when it should be," White said.
How would she change that perception? he asked.
Oldham said she has a personal view about how to prosecute and what to look for in attorneys that would want to work for her office, should she be elected.
"I want to hire people to use their common sense and not use an iron fist," she said. "I find that it helps some of these issues if we, as a staff, come together and discuss our cases and get other viewpoints.
"And I always want people to keep records and files of these meetings, so if someone asks us why we charged someone the way we did, we have that record and we can show them."
Collin Smith can be reached at 875-1794 or cesmith@craigdailypress.com