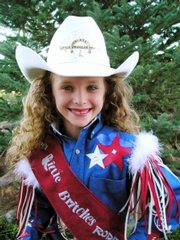 She's traveled more than 5,000 miles this year in a trailer with her name on it, but she can't drive.
Her favorite city is Las Vegas, Nev., but she isn't old enough to gamble.
Listening to 7-year-old Kinlie Brennise talk, you would think she was a high school student approaching graduation.
But, taking one look at her big blue eyes, long curly hair and her T-shirt, reality sets in.
Kinlie, dressed down for her interview Monday in shorts and a shirt with a giant banana imprinted on the front that reads, "my brother drives me bananas," looks nothing like the princess she is.
But, then her lips part and out comes royalty.
"My name is Kinlie Brennise," she says prim and proper. "I'm the 2008 National Little Britches Rodeo Association Little Wrangler princess," as a huge smile, wider than her cheeks can seem to hold, erupts on her face.
She giggles a bit as she leans forward and describes her path to rodeo royalty.
Kinlie beat four other competitors last August during the 2007 NLBRA National Finals in Pueblo to earn her crown as a 6-year-old, becoming the youngest Little Wrangler princess on record.
And, although Kinlie stands less than four feet tall, earning the title was no small feat.
She had to compete in seven different events: horsemanship, speech, interview, written test, silent judge, grand entry and modeling.
"She studied for months for the written test," Kinlie's mother, Sheila said. "She had to know all the rules and answer all kinds of questions.
"It's hard."
Kinlie said she owes her brother, Kasen, for helping her get ready for the written portion of the interview process.
The duo spent endless hours studying while traveling the country, as Kasen drilled her with questions from a flip chart, again and again until she got them right.
But, when it came to speech time, Kinlie admitted she had a few butterflies in her stomach.
"I was really nervous about standing in front of 200 people," she said.
So she used a trick she picked up from her mother, which was better than the advice she received from a friend.
"A girl said to just pretend they are naked," she giggled and said, "but, I didn't want to laugh, so I pictured a dot on the wall and talked to it."
The technique paid off, as Kinlie came away with the crown.
Since then, she's been the busiest East Elementary student in Craig.
Being the NLBRA Little Wrangler princess isn't all fun and games.
The crown, sash, engraved princess saddle and numerous prizes come with a hitch.
It's a job.
At each rodeo, Kinlie must arrive days before the other participants, meet with sponsors, sign autographs and participate in fashion shows.
All while wearing a smile.
As princess, she is the face of Little Britches rodeo.
"Her primary job is to promote the sport of rodeo," Sheila said. "She does fashion shows, presents awards, and then, she still competes. She has a job to do at every rodeo.
"It's a lot to do for a 6-year-old."
Competing has taken a back seat to her royalty duties this past year, but it hasn't effected her rodeo skills in the least.
Last weekend in Cedar Ridge, Kinlie won her first all-around girls Little Wrangler saddle - awarded to the most outstanding cowgirl in the Little Wrangler division's four events: barrel racing, pole bending, flag racing and goat tail untying.
She also picked up five belt buckles to add to her collection of more than 20 she currently has.
She will pass on her crown in 11 days at the NLBRA National Finals in Pueblo - as well as her hair (she's cutting it to donate to Locks of Love) - but she's got new goals firmly planted in her sights.
"I would like to make the top-hand team" placing first five times in a single event, creating an opportunity to win the world championships, she said, "and to win a world title."
She said she will miss the "fancy" hotel rooms, the new friends she's met and the autograph signings.
But, she said she's learned commitment, ditched her shyness and picked up valuable life skills along the way.
She will compete as a Little Wrangler for one more year, when she will then move up to the Junior Girls division.
Where once again, she will be eligible to be crowned princess.
Junior Princess.
"I would like to be princess again," she said. "It's been a lot of fun. I want to go back to Las Vegas."
John Vandelinder can be reached at 875-1793 or jvandelinder@craigdailypress.com