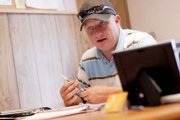 Craig — Matt Beckett grimaced while reading 2007 and 2008 survey results about underage drinking in Moffat County.
The data - provided by social science research firm OMNI's Healthy Kids Colorado Survey - listed 75 percent of all high school students as having drank alcohol at least once, 52 percent who had drank alcohol within 30 days of the survey, and 29 percent who identified themselves as "heavy drinkers."
Referring to the statistics as "extremely high," Beckett strives to reduce the numbers within the next year.
Beckett officially began his position as Grand Futures Prevention Coalition's new director for the organization's Moffat County branch.
Beckett said he found out about the job - from which former director Chad Kiniston resigned in February - by chance.
"I've been on the board for Grand Futures, previously," he said. "Then, I heard that they needed a new director, so I checked to see if it was still available. I don't know why Chad parted ways with them, but I wanted to get more involved with the group because they used to be at the forefront of prevention programs, and I'd like to make that happen again."
Beckett interviewed for the position with Mary Rupert-Hously, executive director for the Moffat, Routt and Grand county branches of Grand Futures.
"I was appointed in the middle of June," he said. "Everything just kind of fell into place."
As owner of Sign Source & Precision Screen Printing, Beckett will balance his time between his business and his new position.
"Sign Source will be appointment only for awhile," he said. "I'll be spending most of my time here."
Beckett helped plan events as a Grand Futures board member. He also analyzed surveys and gauged the amount of need in the community.
"The main difference is that now, I'm accountable for everything," he said.
Beckett plans to restructure the board for Grand Futures.
"I'm just trying to get back in the groove," he said. "We're starting over and getting more people back on the board. I've been contacting people who have been on it before, and anyone else who would be interested would be a great help."
Beckett is currently focused on acquiring community donations necessary for Grand Futures to host the Summer Splash Party for sixth- through eighth-graders at the City Pool.
"I'm still looking at funds and the availability of the pool," he said. "I also want to start getting geared toward the high school. We don't have as many activities for them. I remember when I was in high school, there used to be dances at the Fairgrounds and that's something I'd want to start up again.
Beckett's concern about hosting such events is keeping students safe.
"We'd have to make sure to keep it alcohol-free," he said. "That was the big thing when I was a kid, was to show up to the dance drunk."
Beckett credited his past problems with alcohol and drug abuse as his motivation for working with Grand Futures.
"I grew up here and graduated from high school here," he said. "I know the mentality that kids and parents have about abuse, and that's why I got into prevention. I know where the road can lead."
Beckett also wants to form a Youth Board for Moffat County High School students. The Youth Board would work as a liaison between the student body and Grand Futures.
"It'll be kind of a focus group," he said. "I'd like to get a good mix of kids, all different types. They can tell us what's going on with their classmates.
As Grand Futures' new director, Beckett intends to work with all kids, high school-aged or younger.
"Ninety percent of our work is youth-oriented, and we've got long-term goals for changing the community," he said. "The only problem is that many of our goals might take around five years to take effect. The optimist in me would like to see it happen sooner. I'd at least like to see lower numbers on next year's survey."