Document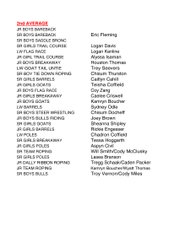 Document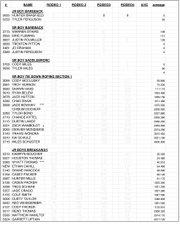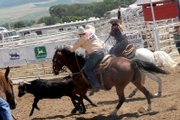 Moffat County Little Britches Rodeo winners
Name Event
Tyler Ferguson Jr. boys bareback
Warren Stairs Sr. boys bareback
Tyler Miles Sr. boys saddle bronc
Lasea Branson Sr. girls trail course
Caleb Hendrix LW flag race
Kristina Reyes Jr. girls trail course
Kamryn Boucher Jr. boys breakaway
Tatum Hughes LW goat tail untie
Matt Spurling Sr. boys tie down roping
Jeni Lorimor Sr. girls barrels
Kristina Reyes Jr. girls goat tying
Shane Hancock Jr. boys flag race
Taylor Engesser Jr. girls breakaway
Hunter Brasfield Jr. boys goat tying
Tatum Hughes LW barrels
Chance Kittel Sr. boys steer wrestling
Chase Bowers Jr. boys bull riding
Sarah Gunkel Sr. girls goat tying
Taylor Engesser Jr. girls barrels
Treyele Gotschall Sr. girls breakaway
Tatum Hughes LW poles
Gabbi Steele Jr. girls poles
Cody Miles/Tyler Miles Sr. team roping
Sheanna Shipley Sr. girls poles
Hunter Brasfield/
Brittanny Brasfield Jr. girls dally ribbon roping
Dusty Shaw/Blake Chide Jr. team roping
Dakota Kling Sr. boys bull riding
Craig resident Gabbi Steele knew if she was to win a saddle while competing in the junior girls division of Little Britches Rodeo, she needed to do it now.
Steele moves on to the senior girls division beginning in the fall, so the Moffat County Little Britches Rodeo on Thursday, Friday, Saturday and Sunday at the Moffat County Fairgrounds, was her last chance.
Steele didn't disappoint.
When the dust had settled on the four-day event and the final points were tallied, Steele captured a saddle (awarded to the first-place finisher in his or her chosen event) in junior girls pole-bending.
"I gave it my all," Steele said. "I went out there just trying to be myself and not to worry about anybody else. I figured if I did that, everything would take care of itself."
Steele beat 42 other competitors to claim her second career saddle.
"I was in just about every event, but poles are my favorite," she said. "This was my last event as a junior, and it's my hometown rodeo. I'm really happy I won."
More than 200 cowboys and cowgirls from the western states of the U.S. attended the rodeo, so as far as the strength of the competition goes, only the National Finals beginning later this month in Pueblo, has more contestants.
"There had to be at least 600 people out here," MCHS senior Eric Fleming said. "This is a really big event and it's in our hometown."
Fleming said the weekend didn't go as well as he had hoped, but he was happy with his finish.
Fleming placed second in Sr. boys bareback, a finish he said he thought could have been better had he not drawn the same horse that knocked him from the High School state rodeo finals in June.
"I felt like I was doing all right the first two days, then I got that same darn horse again," he said. "It was the same horse that got me at state. I was in first up until I drew that horse.
"It makes me want to keep riding, but I can't. It's done."
Fleming also placed ninth in steer wrestling and bull riding.
Troy Vernon placed second in Sr. boys tie down, third in Sr. boys bull riding and teamed with his sister, Taylor, to place 16th in team roping.
"I'm not really happy with second," Troy Vernon said. "I could have rode better. It was still fun, I just wish I did better."
In other senior team roping results, Fleming paired with Chance Kittel earning 19th, Gabby Miller and Jesse Moser earned 20th and Hannah Hegwer and Jessie Snowden finished 23rd.
"It was a lot of fun," Moser said. "I needed to be more aggressive, but it is by far the most fun rodeo of the year."
Hegwer said the rodeo didn't go as she had planned, but heading into her senior year of high school in the fall, she added she's learned a lot for next year's high school competition.
"I met a lot more people out here this weekend," she said. "I learned a lot from it. I'll be better next year. You'll see."
Parachute residents - and brothers - Cody and Tyler Miles, cleaned up this weekend.
The closest competition for the brothers was each other.
Tyler picked up three saddles - giving him 17 in his career - while his brother won two more to add to his High School state championship earned earlier this summer.
"My biggest competition is my brother," Cody said. "We push each other."
Cody is moving on to college, and Tyler knows the stage is set for him to excel on his own.
"It's going to be different now that Cody is going to be gone," he said. "We don't like to lose. It's never easy, but it's definetly not going to be easy now."
The top seven places earned prizes.
Craig had many cowboys and cowgirls fall into that category.
Gabbi Steele placed third in Jr. girls trail course and Jaidyn Steele third in Little Wranglers flag racing.
Wyatt Uptain placed fourth in Jr. boys goat tying and McKenzie Miller fourth in LW poles.
Kinlee Brennise - who also was crowned National Little Britches Rodeo Princess - placed fifth in LW flag racing, Trent Vernon fifth in Jr. boys flag racing and Taylor Vernon placed fifth in Sr. girls poles.
Sixth-place awards went to Kasen Brennise in LW goat tail untie, Troy Vernon in Sr. boys tie down and Trent Vernon in Jr. boys goats.
Kinlie Brennise also placed seventh in LW goat tail untie and LW barrels.
When all was said and done, more than 30 saddles, 100 belt buckles and numerous other rodeo tack had changed hands.
"This is as good as rodeo gets," Fleming said. "To have this many people all come together for the same reason makes it all worth it."