History's insides
Within the time capsule buried at the Moffat County Courthouse in 1958 were:
• Written histories of different community groups in Craig.
• 1958 car catalogs and catalogues for farm implements of the day.
• Photos of local buildings.
• A certificate of incorporation for the Moffat County Synthetic Productions Corporation, which wanted to build a plant for producing synthetic materials from coal.
Materials inside the 1978 time capsule buried at Craig City Hall included:
• A poster for the "First Annual Yampa Valley Music Festival" to be held at Loudy-Simpson Park.
• Old newspaper clippings, such as one detailing the local recall effort against the Moffat County Commission for purchasing the land for Loudy-Simpson Park.
• A 1978 Colorado vacation guide.
• Photos of people around town.
• Aerial shots of Moffat County to show future residents what it looked like 30 years ago.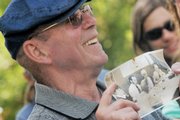 Craig — Kenneth Gott, 21, and Katie Carla, 18, were there for this community, their families, the country and Craig.
"We're here because it's something to do with the community," Gott said. "This kind of thing brings everybody together."
"We can be with families and our friends, too," Carla added. "And see a little bit of what Craig was like back then. It's America's birthday and Craig's Centennial all wrapped up."
On July 4, a day with plenty to do, Gott and Carla joined fellow residents at Craig City Hall for the opening of two time capsules: one buried at the Moffat County Courthouse in 1958 for Craig's 50th anniversary, and the other buried at City Hall in 1978.
The capsules had remnants of lifetimes gone by, including written histories of the town's different organizations - from The Memorial Hospital to the Sun Dial Flower Club - and old newspaper articles, such as the recall effort against the Moffat County Commission for buying the land that would become Loudy-Simpson Park.
The event, sponsored by the Craig Centennial Committee, drew about 100 residents to Craig City Hall on Friday.
At noon, members of the Veterans of Foreign Wars Post 4265 and American Legion Post 62 raised a special American flag above City Hall.
Frank Hanel, KRAI and 55 Country owner and general manager, had requested the flag be flown above the U.S. capitol building in Washington, D.C., on April 21 to commemorate Craig's Centennial.
The flag flew that day and was brought back to Craig to fly at home.
"That's just a great thing for (Hanel) to do," Councilor Ray Beck said. "This is a great day, and it's nice that all these people came out to celebrate."
As Beck, Craig Mayor Don Jones and Dan Davidson, Museum of Northwest Colorado director, prepared to open the capsules, Davidson gave a brief foreword and introduced a living link to Craig's past.
Barbara Thomason, 71, is the granddaughter of W. Teagarden, one of Craig's three principle founders.
She and her husband, Scott, came to town this week to see its centennial.
"I just counted on my fingers and knew it was now," Barbara said. "It's something we wanted to do."
Although they're not formal members of the local community, Barbara and Scott couldn't say enough warm things about their time here.
"There are a lot of differences here compared to what we've seen in our travels in other places and where we live," Scott said. "One thing is the friendliness of the people. They come right up and introduce themselves and chat forever, which is great.
"The children here are much more polite than what we're used to. It shows a real character in the community when families raise their kids like that."
Despite the town's good ol' days charm, Barbara said Craig has changed a lot since her last visit about 11 years ago.
"Actually, quite a bit," she said. "There's new houses and everything."
Nothing showed that change so much, Davidson said, as a picture of Commissioner Saed Tayyara as a city councilor in 1978 with a thick head of dark hair and mutton chops growing on his cheeks.
Tayyara, who was sitting in the audience when Davidson and the mayor teased him about losing his good looks, showed the picture to everyone and laughed.
"Do you believe this is real?" he said with a smile. "That was a long time ago. I looked good, didn't I?"
It took more than two hours to go through everything inside the two containers.
Jones agreed to donate all items to the Museum of Northwest Colorado, which will feature them in a new exhibit in the future.
Work is never done, however, as city officials plan to prepare a new time capsule to bury July 29, which is 100 days after Craig's birthday on April 21.
The city will be taking suggestions and donations from residents and local groups until the burial.
Call or visit City Hall at 824-8151 or 300 W. Fourth St. for input.
Centennial Steering Committee member Beth Gilchrist said she was impressed with the turnout Friday and for all the different centennial events this year.
She has mixed feelings about the celebration being almost over.
"I think we're all just really satisfied that everything we've done, the community has enjoyed," Gilchrist said. "Everyone on the committee has stuck with it and worked really hard. It will be good to have everything said and done, but I'll kind of miss it, too, I guess."
The mayor was bowled over by Friday's turnout.
"I was really amazed with the turnout today," he said. "Our next project is burying the next time capsule. I'd really like to get some public involvement, community involvement and civic involvement."
Collin Smith can be reached at 875-1794 or cesmith@craigdailypress.com