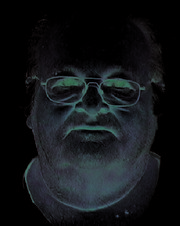 Craig — Terry Hankins' arraignment hearing came and went Wednesday without a plea from the jailed gold miner charged with murdering his wife last year.
Hankins, who was charged in August 2007, faces nine total charges, including a sole count of first-degree murder.
Prosecutors from the 14th Judicial District Attorney's Office contend Hankins murdered his wife, Craig resident Cynthia Hankins, and then buried her body on his gold claim south of the Wyoming border in Moffat County.
If convicted, Hankins faces a mandatory life sentence with no chance for parole.
He appeared with his attorney, public defender Sheryl Uhlmann, Wednesday in Moffat County District Court. However, a late motion filed by Uhlmann on Monday delayed the arraignment.
Chief Judge Michael O'Hara could rule on the motion at 1 p.m. Feb. 28.
Uhlmann's motion requested advisement from the court regarding consequences if Hankins chooses to present testimony of self-defense at trial. More specifically, the defense contends Hankins suffered from battered spouse syndrome.
"Mr. Hankins intends to present evidence at trial that he was acting in self-defense and that he acted after provocation in the heat of passion," according to the defense motion. "This evidence may include expert testimony that Mr. Hankins suffered from battered spouse syndrome, as well as lay testimony regarding the violent abuse suffered by Mr. Hankins at the hands of Cynthia Runnels."
The motion contended that Hankins could not enter a plea during Wednesday's arraignment until the court advised him whether pleading requirements of two state statutes applied in his case.
The statutes are unclear whether a defendant who plans to present evidence that he was a battered spouse provide notice to the court and undergo a court-ordered evaluation as required by law, according to the motion.
At a preliminary hearing earlier this month, Kerry St. James, assistant district attorney, introduced an audio recording of Hankins admitting to killing his wife June 3, 2007, at the couple's Craig apartment complex.
Hankins told an investigator that his wife's death followed an altercation and was in self-defense. He choked his wife for two to five minutes until she passed out, then got a crowbar from another room and hit her in the head, he said on the recording.
He also provided investigators with the location of his wife's body.
Prosecutors contend the killing was not justified.
Uhlmann countered that Cynthia Hankins abused drugs and alcohol, substances that worsened her violent nature, and had a criminal record that included physical assaults. Her client was routinely the victim of domestic violence and feared for his life.
St. James will respond to the defense motion in writing by Feb. 22.
He told the court he was worried the defense could ask for another continuance at the rescheduled arraignment date, further delaying a plea, depending on the court's ruling.
O'Hara said the case needs to move forward without delay at the rescheduled date later this month.
"I'm expecting that Mr. Hankins will proceed with a plea of some sort," O'Hara said. He added, "We need to keep moving along."
Hankins also is charged with theft, three counts of forgery and possession of a controlled substance, all felonies. He faces additional misdemeanor counts of theft and abuse of a corpse.