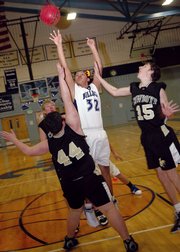 Craig — A seesaw battle went the way of the Cowboys on Tuesday night, as Meeker used a stingy fourth quarter defense to defeat host Moffat County in a low-scoring affair, 34-32, in freshman boys basketball.
"We scored 10 less than I wanted in that fourth quarter," Bulldog coach Joe Padon said. "We just didn't get our offense together enough to get off any shots. I'm disappointed. We didn't play up to our potential."
Moffat County (11-3) led the entire game until 1:23 remained in the contest.
When the Cowboys took the lead, Meeker coach Neil Joy didn't expect the scoring to end there - but it did.
"The guys played tremendous defense tonight," Joy said. "They played really well as a team. They deserved to win."
MCHS defeated the Cowboys by seven points in the teams' first meeting Jan. 19, and Joy said the team exacted a "bit of revenge tonight."
"When we lost to them a few weeks ago, we learned that we could run with them," Joy said. "We broke down last time. Not this time. This is a huge win for this team."
The game seemed to be going the home team's way midway through the third period, when a Zach Raftopoulos 3-pointer put the Bulldogs up 27-21.
A four-minute scoring drought to end the quarter placed the score at 30-29 in favor of Moffat County entering the final frame.
Down two, with 3.5 seconds remaining, Moffat inbounded the ball to Armando Villagrana in an attempt to tie the game.
The Bulldogs never got the shot off as time expired and the Cowboys clinched the win.
Villagrana led the Bulldog attack, scoring 12 points. Angelo Raftopoulos added nine, and Dylon Camilletti pitched in with six.