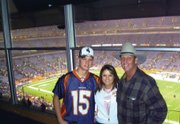 Craig — For more than three decades, work was the staple of Don Pankey's life.
As the co-owner of Western American Drilling, there was a business to run, rigs to operate and holes to drill.
As a rancher, there were cattle to feed and brand, hay to unload and, as a husband and father, there was a family to care for.
"I don't think you have ever met a workaholic like this man here," his wife, Cherratina, said.
Monday through Saturday, he worked, and Sundays were no different - with one major exception. If he could watch the Denver Broncos play, he would. The whirlwind of activity would stop, if only for four quarters.
And if he did have to work during game time, he would still watch the Broncos, even if it meant buying a portable television to take to the rig.
The past 20 months, however, have been different. Being diagnosed with brain cancer can do that.
The workaholic has been forced into another role - someone who had to stand by, someone who had to wait.
Wait for his next chemo session.
Wait for his next diagnosis.
And wait for Sundays, when his beloved Broncos would play; a chance to get away from the cancer.
"I still never missed a game," Don said. "We always had it scheduled to where we could watch the games on Sunday. : It was a reprieve for me."
From decades of working 80 to 90 hours a week to days waiting for the next treatment, Don has been a Broncos' fan - a team he has had a lifelong passion for, a love he has passed on to his sons, Christopher and Michael.
The Broncos are so important to the Pankey family that it creates a seasonal mood disorder - that is, Don and his sons' moods are affected by the Broncos' season.
If the Broncos lost, Christopher and Don would be upset the entire week (Don says he's gotten over getting mad; Christopher, however, has not).
Michael would rage and go to his room.
Cherratina, on the other hand, has prayed to God, asking to give better understanding of the Broncos' bond her family has. With that prayer unanswered, her request is much simpler: She just wants the Broncos to win so she doesn't have to bid adieu to a certain amount of happiness for seven-day clips.
But if the Broncos won?
"Everyone would be happy all week," Don said. "Until next Sunday."
The 2007 season is finished, but the Pankey family is still basking in the afterglow of the Broncos' 22-19 overtime victory against the Minnesota Vikings on Dec. 30.
It's been, admittedly, a rough season for the Pankeys, watching Denver go 7-9 and miss the playoffs. But on this day, two weeks after the season is over, Don, Cherratina, Christopher and Michael sit around a table, smiling and laughing as they talk about the season-ending win against the Vikings and their love for the Broncos.
It's not just that the Broncos won that has the Pankeys so happy. It's more than that. After a life of giving love and passion to the Denver team, the Broncos, with the help of Don's family and friends, gave back with more than a win.
But we're getting ahead of ourselves.
The gift
Christmas Day.
Presents are being passed around the Pankey household when, halfway through, Don is handed a gift from long-time family friends and business associates Tony and Kim Maneotis.
The gift is not wrapped, but is inside a decorated box. Inside lies a blue, long-sleeve Denver Broncos shirt. And on top of the shirt is a note, folded in half.
Don picks up the note, reads it and a look of disbelief and excitement crosses his face.
The note since has been accidentally lost, but the gist thanked Don for being a Bronco fan and invited him and his sons to the Broncos game against Minnesota.
With stadium seats as well as a suite.
The note was from Broncos all-pro center Tom Nalen and the Denver Broncos, written by Tony.
The gift was a matter of connections. Don's son Christopher is dating MacKenzie Maneotis, who is Tony's daughter. And Tony, co-owner of Victory Motors, is a business associate and friend with several Broncos players, including Nalen, whom Tony refers to as "Tommie."
But the gift was also more than a matter of connections.
It was a matter of desire: Don had been to other Bronco games but never in a suite.
"I had never been inside of one. I was jealous of all those rich people sitting inside of there," he said with a grin.
It was a matter of love: After going to a game with his girlfriend last year, Christopher wanted the chance to take his father with him, and he asked Tony if it could be done.
It was a matter of respect: Tony listened to Christopher's request and made the phone call to Nalen. Why did Tony do it? Don "is just a really nice guy," Tony said. "He would do anything for anybody : He's just a fantastic guy.
"I am just thrilled to make young boys and a father happy."
It was a matter of necessity: As the brain cancer and treatments have taken their toll, Don could not sit outside in the cold for an entire game, and there could have been problems with getting him to his seats.
Enter the suite.
And it was a matter of getting it done: The request was originally for the Kansas City game, a request Nalen could not fill. Despite that setback, Nalen told Tony, "I know people and we'll get it taken care of," Tony recalled.
The game
The day of the Minnesota game, Tony went with Don to Suite No. 411 at Invesco Field, which was located on the southeast side of the stadium, right above where the Broncos enter the stadium.
A clerk greeted the duo and asked Don if he wanted something to eat or drink. He said he would wait for Chris and MacKenzie to buy something for them.
The clerk said, "Don, you pay for nothing here," Tony remembered. "Don looked at me and said, 'Boy, it's too bad you're sitting outside.'"
Don, Christopher and MacKenzie watched the game from the suite, eating all the prime rib sandwiches, shrimp cocktails and food from a taco bar they wanted, while Michael, Tony and Kim sat five rows up from the 10-yard line on the field.
The view from the box?
"Beautiful," Don said. "It is absolutely gorgeous."
The game went into overtime, which could have meant the Pankeys would miss the tip-off for the Denver Nuggets contest against Golden State (a Christmas present from Michael and Cherratina, who also purchased tickets for a Mammoth game the night before).
Not that Don would have minded if they did - he was too busy enjoying the Broncos.
"It was a great game," he said. "I didn't want it to end."
"We wanted to spend as much time in the suite as we could," Chris said.
The next day, the group met with Nalen for lunch at the Cheesecake Factory.
"He's just a real nice guy, down-to-earth. He's just like one of your best buddies, sits there and talks with you," Don said. "He's not above you at all."
Chris, on the other hand, admitted to being a little shell shocked with the encounter.
"It's kind of neat growing up watching a guy on TV, a guy who is probably going to be in the Hall of Fame, and idolizing because I played a similar position all through high school," Chris said.
With lunch over, "Don stole the ticket, and he was pleased that he got to buy Tom Nalen lunch," Tony said.
"I bought his lunch," Don said. "I don't know if I stole it."
On the way back to Craig, an exhausted Don made a phone call to his old drilling partner, before going to sleep.
His comments: "Guess who I just bought lunch for."
The cancer
The game was more than a win by his beloved Broncos.
"I basically thought it was my last chance to see them," he said.
On Jan. 9, Dr. Arenson Edward of Swedish Medical Center in Littleton - a man Don credits with extending his life - told Don and Cherratina that Don had three to six months to live. That they were stopping the chemo sessions.
"Shock," Don said about hearing the doctor's words. "Absolute shock. I thought things were going pretty well."
Cherratina said there were some concerns because Don had suffered some seizures for the first time in more than a year.
"But we also thought we still had a ton of options ahead of us," Cherratina said.
This doesn't mean Don and Cherratina are giving up on trying to beat the disease, she said. After all, this is the second time Don has been given a six-month sentence, the first came in June 2006.
"We're planning on trying to beat (the) cancer, despite what the doctor says," Cherratina said, noting the plan now is to go with a holistic, organic approach to fight the disease.
The family is trying to blend being realistic with being hopeful, she added.
Either way, Don has the Broncos.
From "The Drive" and "The Fumble" to both Super Bowl victories, Don has cherished memories of the Denver team throughout the years. And now, he says, the Minnesota game is among them.
"It would be right in there," Don said. "Especially with the game they played. They played a fabulous game.
"I would just like to give credit to Tony and Kim and Tom Nalen for thinking about us and being that nice," he added. "It was really a special thing to us. It really was."
And if Don and his family can beat doctors' predictions and brain cancer and get another chance to see a Broncos' game, Nalen might be getting another call.
"If we end up whipping this, we're going to hit up Tom Nalen yearly, as an anniversary in the suite," Cherratina said.
Jerry Raehal can be reached at 824-7031, ext. 204, or jraehal@craigdailypress.com