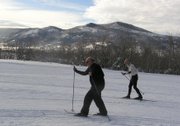 Places to ski
• For detailed information about the Steamboat Ski Touring Center and other ski touring/Nordic centers in the area, visit www.steamboatxcsk...
• For information about skiing at various Colorado State Parks, visit parks.state.co.us.
• For maps or information about trails in nearby National Forest, visit the U.S. Forest Service office at 925 Weiss Dr. in Steamboat Springs or call 879-1870.
Sven Wiik, 86, knows a thing or two about cross-country skiing.
A longtime instructor at the Steamboat Ski Touring Center, Wiik speaks with pride about the sport's long history, including its beginnings in Scandinavia as a form of transportation and its evolution into ski sports many people enjoy today.
Sure, Wiik has done a lot of alpine skiing in his life, but cross-country skiing, a sport he learned when he was three years old and still practices daily, is his true love.
"I can go out and cross-country ski and have a great time : I'm still learning every day," he said.
Wiik has seen many older skiers return to or take up cross-country skiing as an alternative to fast, crowded alpine slopes. Cross-country skiing involves less speed and flatter terrain so there is less risk of serious injury, but older skiers also appreciate the fitness benefits of the sport as well as the experience of skiing a quiet groomed track or forest trail.
Whether it's a quick jaunt through the park or an adventure into the backcountry, the range of cross-country ski equipment, techniques and terrain offer something for everyone.
Scott Beattie, also an instructor at the Steamboat Ski Touring Center, still gets the same feeling cross-country skiing as the first time he tried the sport.
Despite bad equipment and poor snow, "I instantly knew it was the most fun thing I'd ever done," he said.
As Beattie improved his technique, he got into shape and also had fun, an overall experience that proved addicting.
"It's my greatest thrill," he said.
Small learning curve
Unlike alpine skiing, a cross-country skier's boots are attached to the skis only at the toes, allowing the skier to ski up and down hills and across terrain. Beattie and other instructors at the Touring Center pointed out that the free heel and lightness of the equipment helps keep injuries to a minimum while giving beginners more confidence.
Classic cross-country skiing generally involves a rhythmic gliding motion with the skis remaining parallel. Ski skating or free technique is a faster and more rigorous variation of cross-country skiing that resembles ice skating or rollerblading.
Because cross-country skiing requires simultaneous work from both the upper and lower body, it is considered one of the best all around aerobic exercises. A slow but steady pace can provide a good workout while skiers looking to build endurance pick up the pace.
There is a little learning curve to cross-country skiing, but beginners tend to pick up the basics quickly, Beattie said.
"My experience is I see a tremendous amount of success in the first 20 minutes," he said, noting that by the end of a one-hour lesson, beginners typically have enough skills to practice on their own for half a season.
In addition to getting used to balancing on a slick surface and gliding, novice skiers typically learn how to climb and descend small hills while getting familiar with other techniques and terminology, Wiik said.
"If you can walk you can learn how to cross-country ski," he said.
Where to go
The relative ease of learning basic cross-country ski skills makes it an ideal sport for older skiers to enjoy with their children and grandchildren. There are no high priced lift tickets, just the cost of renting or buying equipment and fees associated with skiing some trails or groomed tracks.
The sky is the limit when it comes to places to cross-country ski in Northwest Colorado. Many areas have tracks made by grooming machines that press two grooves into the snow for classic skiers while packing a wide flat surface for skate skiers.
Ski touring or Nordic centers offer miles of groomed ski trails and sometimes snowshoe trails. Other services may include lessons, equipment rentals, retail shops and/or food/snack bars.
Daily trail fees range from $8 at the Howelsen Hill Nordic Center to $16 at the Steamboat Ski Touring Center and Lake Catamount Ski Touring Center, which both offer amenities in addition to trails.
Cross-country ski trails and/or groomed tracks are also located at area state parks, including Steamboat Lake, Stagecoach and Yampa River state parks, where $6 daily parks passes are required.
Skiers can also take advantage of free skiing on groomed tracks at Dry Creek Park in Hayden and Yampa Valley Golf Course in Craig.
Of course, experienced cross-country skiers looking for a more remote experience can head into the backcountry for a day trip on various trails located in National Forest areas or even consider an overnight trip via one of the state's hut systems.
A variety of cross-country ski gear is available depending on they type of skiing and terrain skiers plan to tackle, so it's best to consult an experienced sales representative at a sporting goods store or touring center about the right equipment to purchase.
Older adults thinking of taking up cross-country skiing should also check with their doctor before trying the sport.
This article includes basic information about cross-country skiing from xcskiworld.com.