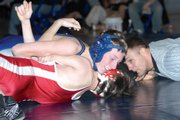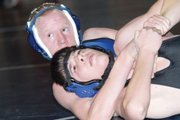 Craig — Moffat County wrestling coach Roman Gutierrez summed up his team's performance in Saturday's Dog Fight Duals wrestling tournament, with one word.
Sluggish.
Moffat County High School placed fourth out of the six teams that competed in the high school's gymnasium, a result not completely unexpected by Gutierrez.
"We wrestled sluggish coming out of the winter break," he said. "The break showed in us but not in the other teams."
Freshman Charlie Griffiths accounted for the most productive day by a Bulldog, compiling a 4-1 record, two of the victories by pin.
"I was just trying to make the home crowd proud," Griffiths said. "I was more relaxed wrestling here at home, than I have been all season. Today will help me further along the road when we get to state."
Sophomore Nathan Tomlin also earned four wins, one via the pin.
"We just did OK today," Tomlin said. "We still have a lot of room for improvement."
Matt Kincheloe, Jesse Breslin, Josh Satterwhite and Troy Vernon each tallied three wins.
"Not that good," Kincheloe said when asked to sum up his performance. "I should have won more. It was good competition, but I need better conditioning."
Gutierrez pointed to his team's lack of strength as the primary reason for the team's final result.
"I really feel our strength is not up to par with the other teams we wrestle," he said. "Us lacking in strength is really starting to cost us. Until we address that, some of these kids are going to struggle."
The Bulldog wrestlers will get the chance their coach is looking for this month.
Gutierrez said January has historically been the most brutal month of training for the team, a time when championships are built.
"At the end of the day, I guess we are OK," Kincheloe said. "We need to improve, but for some reason I think January will take care of that."
The Bulldogs have a short week of practice ahead. The team leaves Thursday to compete in a two-day meet beginning Friday in Las Vegas.
"We usually place in the top three," Gutierrez said. "Right now, we are shorthanded so we will have to wrestle out of our minds if we want to do well."