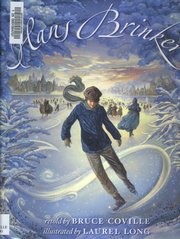 Craig — The scene for this week's picture book is chilly looking, indeed. Windmills, houses and trees are covered with snow, and people skate on the frozen river. It's Holland in winter.
"Hans Brinker" is retold by Bruce Coville and beautifully illustrated by Laurel Long. The book was adapted from the beloved classic novel "Hans Brinker, or the Silver Skates," written by Mary Mapes Dodge way back in 1865.
The book actually begins with illustrations on the front inside cover of the book. Hans Brinker and his dog are headed for the skating rink at the bottom of the hill. The rink is already filled with skaters.
When Hans reaches the others on the ice, his sister Gretel tells him about the great skating race with a prize of silver skates, one pair for the boys and another for the girls. Hans says that he and Gretel don't have a chance of winning, however.
Ten years earlier, Raff Brinker, their father, was badly injured while working on a dike. Now he cannot work; in fact, he cannot even communicate with the family. They are very poor, so the children have only wooden skates that aren't fit for racing.
Carl Schummel, one of the young men at the rink, taunts Hans and Gretel. He calls them "ragbags" and says they shouldn't be allowed to race. However, Annie Baumann, a young woman, doesn't agree.
Annie has seen a necklace that Hans carved for Gretel. She wants Hans to carve one like it for herself. Payment is enough to buy a pair of skates, but Hans, a very caring young man, insists that Gretel use the money to buy herself some skates.
Then Peter steps in. He's a friend of Hans. Peter says that his sister must have a carved necklace, too. Now Hans has enough money for his skates.
Just before Hans leaves for Amsterdam to buy the skates, he notices a sad expression on his mother's face. For the first time, she tells Hans about 1,000 guilders that she and his father had saved. It would have been enough money to tide them over until their father recovers. But, the money came up missing. There's also a mystery concerning a silver watch that Raff had asked their mother to guard for him.
When Hans gets to Amsterdam, he looks up a great doctor, Mynheer Bockman. Hans says he has money and asks the doctor to examine his father. Dr. Bockman is touched. He won't take the money, but he will visit Hans' father.
There's so much more to this fairy tale, including the big race, the answer to a mystery and even a little magic. There's a message, too, that revolves around a caring and gentle young man.
An "author's note" about Mary Mapes Dodge is found at the end of the book. The illustrations, created by using oil paints to watercolor paper, are superb.
"Hans Brinker" is published by Dial Books for Young Readers, 2007. It costs $16.99 in hardcover. The book is new at the Moffat County Library.