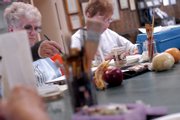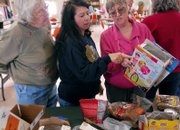 Craig — It keeps things fresh, keeps life new and keeps someone from retreating into his or her self.
"It keeps you alive," said Nina Lawton, who will soon turn 80, while she sketched a collection of fruit beside a plastic cup during an Art Combo class Wednesday.
It is the Aging Well program, which includes Art Combo, one of many courses offered through Colorado Northwestern Community College.
Aging Well is a Northwest Colorado Visiting Nurse Association program for seniors. Participation in the program's varied activities has grown since its introduction a few years ago.
Community cooperation grew, too.
After that program started, about 2006, CNCC President John Boyd instituted a new policy allowing people 62 and older to take any classes through the college without paying tuition or course fees.
In effect, they would only be responsible for materials.
Since then, Craig's senior residents have shown more interest in coming out for classes, said Mary Morris-Shearer, CNCC Craig campus director of community education and public information.
Popular course offerings include art, exercise, writing and computers.
"When you're my age, it helps you to not be despondent and down in the dumps," Lawton said about her art class. "Alert to life, and colors and feeling alive.
"It takes you completely into the artwork. It takes you out of yourself and completely into something else."
Bobbie Harper, 67, looks forward to her Writing Memoirs class because it lets her stretch the familiar expectations she once had for her prose.
"I'm writing about things that I didn't learn in school to write about," Harper said. "We would do some writing, but back then, I guess, you didn't get into these other things you can do with that."
Getting out with friends and acquaintances brings Verda Lichtenhahn, 74, back for more each time, she said. It keeps her working, too.
"I miss retirement, but to go to work and meet new friends, new people, that's interesting, too," Lichtenhahn said. "I think that makes a person's life more interesting."
CNCC's senior involvement grows with each semester, and seemingly those who tried one class have had such an impression, they enroll in others.
What started as 45 seniors in 82 classes in spring 2007 is now 57 in 161 classes.
The numbers appear to go up little by little each day, Morris-Shearer said.
The oldest student in the program is 94, or was.
"She dropped out of my Healthier Living class because she said she had figured out life," Morris-Shearer said with a smile.
CNCC is grateful to collaborate with other local organizations, she added.
The college cooperates with the Colorado State University Extension office in Craig and the VNA to provide the Aging Well activities.
The program would be limited without the community working together, Morris-Shearer said.
"We're happy because we're maxed at the college," Morris-Shearer said. "To be able to offer classes (at the American Legion) and at the Extension Office, that collaboration within our community is just so wonderful."
The VNA funds many of its own classes and instructors - which focus on exercise and healthy living - as well as provide the space at the American Legion where Wellness Wednesdays happen.
Aging Well is intended for anyone "50 and better."
The response to the programs and the positive changes in people's health is more than Kathy Vanatta, VNA Moffat County senior outreach coordinator, ever expected.
"If anything, it shows the need for something like this in our communities," she said.
Wellness Wednesdays, a daylong series of events, has become so popular that more events were added throughout the week - including Saturdays - at different locations.
The plan is to keep going.
"I'm just a firm believer for something like this because you don't see a lot of that in rural areas," Vanatta said. "We see noticeable changes in our individuals that attend our exercise classes. Their doctors are finding them so much healthier."
For more information on CNCC classes, call the college at 824-1100. For more on the VNA Aging Well program and Wellness Wednesdays, call 871-7676.
Collin Smith can be reached at 875-1794 or cesmith@craigdailypress.com